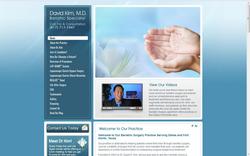 Colleyville, TX (Vocus) February 3, 2009
The American Society for Metabolic & Bariatric Surgery estimates that more than 15 million people in the United States are morbidly obese, weighing 80-100 pounds more than their ideal body weight. Morbid obesity can not only cause embarrassment and low self-esteem, it can also lead to serious health risks such as diabetes, heart disease, and stroke. Dr. David D. Kim is a Dallas – Fort Worth bariatric surgeon specializing in procedures designed to help patients lose significant amounts of weight and change their lifestyles.
Dr. Kim is part of a select group of bariatric surgeons chosen to begin performing the laparoscopic REALIZE™ Band-C procedure, the newest incarnation of the effective REALIZE™ Personalized Banding Solution. The REALIZE™ Band-C is an implantable weight loss device that creates a smaller stomach pouch for food intake. The band is a streamlined, curved design that is fully adjustable, making it possible to tighten the band so that the stomach can accommodate less food, or loosen it so it can take more. Once the band is placed around the stomach, a REALIZE™ injection port is attached to the abdominal wall under the skin, allowing Dr. David D. Kim to inject or remove a saline solution from the band itself, which causes the band to expand or contract according to the patient's needs. The idea of REALIZE™ Band-C is to make the patient feel full sooner after eating less food, leading to a large amount of weight loss and less risk of severe health problems caused by morbid obesity.
As part of the REALIZE™ Band-C system, patients will have access to the REALIZE™ mySUCCESS program, an interactive web application which helps them develop individualized fitness and dietary regimens so that they can achieve the maximum benefits of the procedure. REALIZE™ mySUCCESS also links patients to Dr. David D. Kim and his healthcare team, allowing them to track the patient's progress between follow-up visits, as well as providing support and advice on how to adjust to a new, healthier lifestyle. Based on data from actual REALIZE™ patients, those who used the REALIZE™ mySUCCESS program have been shown to lose even more weight than those who did not.
The REALIZE™ Personalized Banding Solution, available from the Dallas – Fort Worth – Arlington bariatric weight loss surgery practice of Dr. David D. Kim, is one of the newest and most effective surgical treatments for morbid obesity. The procedure is performed laparoscopically, which results in smaller incisions, less time in the hospital, less pain, and a faster recovery. REALIZE™ also has been shown to have lower rates of leaking than other adjustable gastric bands, and the surgery does not permanently change the anatomy of the intestines and stomach. The REALIZE™ Band-C is a completely reversible procedure and can be removed if necessary.
Dr. David D. Kim has been designated as a "Surgeon of Excellence" by the American Society for Metabolic and Bariatric Surgery (ASMBS), and was voted by his peers as a "Top Doc" for general and bariatric surgery in 2007. He has devoted his career to bariatric weight loss surgery and is certified by the American Board of Surgery. Dallas – Fort Worth REALIZE™ Band weight loss surgery patients can meet with Dr. Kim at the Live Life Again Center for Bariatric Surgery, Dr. Kim's state-of-the-art facility. The Live Life Again Center has been named a "Center of Excellence" by the ASBS, a distinction only achieved by facilities that have proven to meet the highest standards of care.
To give the latest, most up-to-date information to patients considering surgical treatment for morbid obesity, Dr. David D. Kim collaborates with Rosemont Media, a San Diego, California bariatric surgery website design firm. Dr. Kim's website contains a comprehensive overview of the Live Life Again Center and the procedures available, as well as a detailed biography and information on free educational weight loss surgery seminars where he can answer questions and address concerns about treatment.
David D. Kim, M.D., F.A.C.S. at the Live Life Again Bariatric Surgery Center can be reached through his website, http://www.drdkim.net, or at 35 Veranda Lane, Suite 100, Colleyville, Texas, 76034 – (817) 717-7447.
###