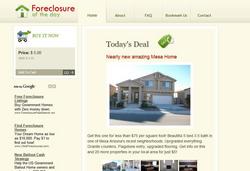 Rexburg, Idaho (PRWEB) February 5, 2009 -
ForclosureOfTheDay.com (http://www.ForeclosureOfTheDay.com ) is a new site pointing real estate investors toward heavily distressed properties in prime locations across the US. While foreclosures jump to an all time high, savvy real estate investors look for opportunity amid crisis. ForeclosureOfTheDay.com presents real estate listings in a Web friendly deal of the day format. According to Kevin Kennedy, director of public relations, the site was founded by two conservative investors from Idaho who know that real estate investing remains the golden road to riches. The pair scours Bank owned properties and lists the very best foreclosure deal in the country each day.
Areas of mounting job losses and very weak consumer confidence contain the best investment prospects, but only if investors know where to look, says Kennedy. ForeclosureOfTheDay.com lists only featured properties that adhere to a proven formula, meeting very strict criteria for inclusion. Investors pay for access to a targeted list rather than a subscription fee that often yields dubious data.
Each night at midnight eastern ForeclosureOfTheDay.com unveils the day's hottest foreclosed property. Highlighted listings have a price per square foot up to 50 percent less than comparable properties in the area.
Currently there are more than half a million bank owned properties in the US. ForeclosureOfTheDay.com analyzes these properties and features only the best of the best. As banks become more and more aggressive about marketing assets acquired through foreclosure, investors benefit. The current flood of bank owned inventory means that desperate banks will do just about anything to clear non performing assets off their books, said Kennedy. Armed with the information provided by ForeclosureOfTheDay.com real estate investors can capitalize on some amazing deals.
Foreclosure sales are skyrocketing while traditional home sales are lagging. This is the largest buyers market in years and ForeclosureOfTheday.com fills a clear need for those sick of wading through real estate trash to find real estate treasures.
Contact:
Kevin Kennedy, director of public relations
ForeclosureOfTheDay.com
1-800-539-2141
###