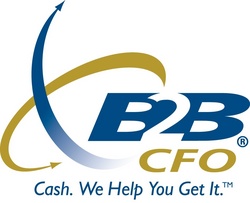 The Danger Zone - Lost in the Growth Transition
Phoenix, AZ (PRWEB) February 4, 2009
In today's economic climate, it's more important than ever for small and midsize businesses to efficiently connect with their target audiences, surviving - and thriving - while saving invaluable resources. With this in mind, B2B CFO, the fastest growing CFO services firm in the nation, announces the launch of an exclusive service providers platform, aimed to create a wellspring of financial and growth-related resources for small and midsize businesses.
This new online platform was designed as a strategic and targeted means of increasing visibility for participating companies, bringing together industry leaders and their extensive knowledge of privately held, growth-oriented businesses.
This month, Woodbridge Financial Group, Inc., Corefino, Inc., Raymond James Financial, Page Views, Inc., and State Tax Advisors announced their strategic alliance with B2B CFO.
Jerry L. Mills, founder and CEO of B2B CFO, said that for survival in today's economy, businesses must find effective ways to fight through the competitive clutter, and to demonstrate their value to the customers.
"Time is money, especially these days when your resources mean so much," Mills said. "Our service providers' forum creates a streamlined link for industry leaders to team up and market to a common target audience. It's a win-win situation."
This unique program, not unlike traditional referral marketing, limits service providers to one per industry in order to provide unfettered access to a variety of experienced financial professionals in accounting, mergers and acquisitions, financial planning, SEO optimization and tax consulting -- in addition to B2B CFO's Partners.
"Our team sees the alliance as a sound strategy for reaching new customers whose growing businesses can benefit from assured accounting and financial resources," explains Karen Northup, CEO of Corefino.
"Business leaders look to Corefino to provide the technology, best practices, controls and hands-on accounting teams they need to execute on a daily basis," Northrup said. "Corefino then looks to B2B CFO for department leadership and strategic direction. Together it is a powerful combination that not only delivers immediate results, but also significant savings when compared to traditional internal finance departments."
This new strategic alliance will further enhance the resources offered to B2B clients. Collectively, the firm's Partners service more than 500 small and mid-size businesses at any time. The Partners average 25 years of senior financial experience, and serve as trusted business advisors that stay in a part-time CFO role with their clients. Each partner is supported by more than 2,500 years of collective CFO experience of the firm.
Visit our B2B CFO CFO service providers page to learn more about our strategic partnerships.
About Corefino, Inc.:
Corefino, Inc. provides integrated outsourced accounting and finance solutions for small and medium-size businesses. The company is the first to combine financial expertise, practices-based workflow and processes and a powerful, best-of-breed technology platform into a family of outsourced accounting and finance products that are affordable for growing companies. Corefino, Inc. customers gain quality accounting, professional expertise and access to a wide range of partner solutions without having to build an internal finance infrastructure or hire, train and retain qualified professionals. For more information, visit http://www.corefino.com .
About Page Views, Inc.
Founded in 1998 and located in Scottsdale, Ariz., Page Views, Inc. provides expertise in search engine optimization and marketing. The company's successful search engine marketing campaigns encompass on-site and off-site optimization strategies, enabling clients to get in front of buyers and keeps the sales pipeline filled with qualified prospects. For more information, please visit the Page Views B2B Search Engine Marketing home page.
About Raymond James Financial:
Founded in 1962 and a public company since 1983, Raymond James Financial is a diversified financial services holding company with subsidiaries engaged in investment and financial planning, investment banking and asset management. Through its three wholly owned broker/dealers, more than 5,000 financial advisors serve 1.8 million accounts from 2,200 locations throughout the United States and internationally. For more information, please visit the Raymond James Financial Services site.
About State Tax Advisors:
State Tax Advisors is a full-service state and local tax consulting firm that provides strategic knowledge in sales and tax consulting, compliance outsourcing and franchise tax. Offering a wide scope of in-house capabilities, State Tax Advisors helps businesses manage the ever-changing state and local tax environment, by providing comprehensive and innovative state and local tax planning as part of their consulting services. For more information, please visit the State Tax Advisors site.
About Woodbridge Group, Inc.:
Woodbridge Group, Inc. is an innovative mergers and acquisitions (M&A) advisory firm focused on lower-middle market companies. Woodbridge Group, Inc. provides sell-side and buy-side advisory services to companies across a broad range of industries, managing deals with a transaction value of $5 million - $50 million. Woodbridge Group, Inc. was founded in 1993 by Robert Koenig, shortly after he sold his former company - a $100 million manufacturer and distributor. Please visit the Woodbridge mergers and acquisitions advisory firm website for more information.
ABOUT B2B CFO®:
B2B CFO® is the nation's largest CFO firm serving entrepreneurial, growth and mid-market companies with sales up to $75 million. Headquartered in Phoenix, AZ, the firm was founded in 1987 by Jerry L. Mills. The firm's partners have an average of 25 years of experience and each partner is a senior level executive with a broad range of expertise. Click to learn more about B2B CFO firm. Jerry L. Mills, CPA is the author of "The Danger Zone - Lost in the Growth Transition" and "Avoiding The Danger Zone - Business Illusions" - non-fiction business books aimed at entrepreneurs. To purchase a copy, please visit online at http://www.dangerzonebook.com .
Note to editors: Interviews, graphics and digital images are available upon request.
###