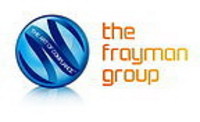 Under Alp's leadership, The Frayman Group will implement and improve on software development and business practices as we expand our business.
New York, NY (PRWEB) February 4, 2009
The Frayman Group (http://www.fraymangroup.com ), a leading provider of risk management software and services for law firms, today announced that Alp Hug has agreed to join the company as Senior Vice President of Corporate Development and Strategic Marketing. In this role, Hug will lead The Frayman Group's overall strategic planning and business development efforts and will direct product initiatives for the company's software division.
Hug has more than 15 years of experience in the enterprise software industry, with specific expertise in law firm risk management and compliance best practices and technologies, including in depth knowledge of LegalKEY, eDOCS and Worksite product suites. Hug brings deep expertise in the areas of information governance and retention, information management, enterprise content management (ECM), document management, web content management, knowledge management, business intelligence, enterprise portals, team collaboration, e-mail management, Web 2.0 and enterprise records management practices.
"The Frayman Group is the undisputed leader in the delivery and implementation of compliance and risk management solutions for law firms," Hug said. "My goal is to build on this solid foundation as we continue to grow the company, into a world-class risk management software brand."
Hug has spent his professional career innovating, shaping and managing enterprise software products, holding various leadership positions in product management, product marketing, product strategy, marketing, business development, corporate development, corporate strategy and M&A. He most recently served as senior vice president of the ECM Suite Technology Group at Open Text Corporation (Nasdaq: OTEX, TSX: OTC), the leading independent ECM vendor in the world. Prior to his tenure with Open Text Corporation, Hug spent 11 years in leadership roles with Hummingbird Ltd.
"Alp is a proven leader in the enterprise software industry that has a solid understanding of technology, along with the vision and business acumen needed to help The Frayman Group as we continue to serve the global legal marketplace," Said Yuri Frayman, Chief Executive Officer of The Frayman Group. "Under Alp's leadership, The Frayman Group will implement and improve on software development and business practices as we expand our business."
About The Frayman Group
The Frayman Group assists law firms in actively updating their client/matter policies, procedures and technologies to reduce risk exposure and streamline operations. The company provides firms with strategic recommendations, project management and technical services pertaining to new business inception, conflicts clearing, records management, data confidentiality and security, and risk mitigation. The Frayman Group's business process assurance software includes: compliflow™ New Business Inception, compliflow™ Lateral Hire Intake, compliguard™ Ethical Walls & Confidentiality Screening and compliclear™ Interactive and Mobile Conflicts Reporting.
For more information, interested parties can visit http://www.fraymangroup.com.
# # #