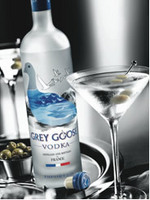 London, UK (PRWEB) February 4, 2009
Grey Goose vodka and Soho House are hosting the official after party for the prestigious Awards ceremony on Sunday, 8 February, at the 5-star Grosvenor House hotel in London. With the biggest names in film celebrating the best movies from around the world, the Soho House Grey Goose After Party promises to be one of the most memorable ever.
In addition to the iconic BAFTA mask, the Award winners will each receive a limited edition bottle of Grey Goose vodka. Each magnum bottle will be personally engraved with the winner's name and the award won to commemorate their success.
To celebrate the glamour of the movies Grey Goose is also giving away five commemorative magnum bottles of Grey Goose vodka as part of an exclusive online competition. These very special bottles will be engraved with the winner's name, just like those presented to Award winners. To be entered into the prize draw, entrants will need to correctly answer three questions related to this year's Orange British Academy Film Awards. All entries must be received by midnight (GMT) on 16 February 2009.
About Grey Goose
Why is Grey Goose the World's Best Tasting Vodka?
Grey Goose vodka, the world's favourite luxury vodka, is created with one goal - to be the world's best tasting vodka. Made in Cognac, France, home to the world's most respected experts in spirits making, Grey Goose vodka benefits from the region's rich history of creating luxury foods, wines and spirits. The maître de chai (cellar master) for Grey Goose vodka ensures that every element of its production is of the highest quality. He selects 100% of the finest French wheat, the same wheat used to create delicious French pastries, and employs an exclusive five-step distillation process to concentrate its exceptional flavour. Pure spring water naturally filtered through Champagne limestone is then blended with the spirit. Only when the spirit has reached its optimal taste is the maître de chai truly satisfied. Grey Goose vodka is lush, smooth and rounded and melts in the mouth with a long-lasting, satisfying finish.
About Soho House
Soho House was founded in 1995 as a private members' club for those in the film and media industries. Sister clubs and restaurant include Babington House, a 32 bedroom hotel, private members club and Cowshed spa set in Somerset. The Electric Cinema, Club and Brasserie in London's Notting Hill; Soho House New York, a 24 bedrooms hotel, private members club and spa; High Road House, Brasserie and Cowshed shop in Chiswick opened in July 2006. Lastly Shoreditch House opened in June 2007 in East London over the top two floors and roof of a warehouse building. Forthcoming projects include Cecconi's LA in February 2009, Dean Street Townhouse & Dining Room in September 2009 a 41 bedroom hotel and English dining room on the ground floor and Soho House Berlin planned to open in November 2009. Restaurants include Cecconi's, Café Boheme and BKB.
About the BAFTAs
The Academy's mission is to support, develop and promote all the art forms of the moving image, by identifying and rewarding excellence, inspiring practitioners and benefiting the public. The Academy's 6000+ membership comprises experts in film, television and video games - directors, producers, actors, developers, publishers, cameramen, writers, make-up artists, editors, sound engineers etc - indeed anyone who plays a vital role in the creation of a film, television programme or video game.
For further press information, please contact Laura Portch at Treehouse PR, email laura(at)treehousepr.co.uk, tel +44 (0)20 7224 0994, or visit http://www.greygoose.com
###