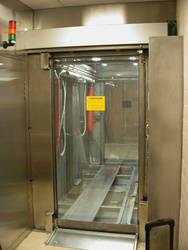 We looked at their available dimensions and needs before designing the Cart Washer
Jackson, MI (Vocus) February 4, 2009
Midbrook, Inc recently finished installation on a new Cart Washer for Central Processing for a local Michigan hospital.
The Midbrook Cart Washer for Central Processing was custom designed to fit into the specific footprint of the facility, showing the flexibility available by ordering from Midbrook.
The facility needed a Cart Washer that could fit into a small area, near an elevator shaft. Due to the need for a custom designed footprint, the facility turned to Midbrook rather than manufacturers that only offer standardized machines.
"We looked at their available dimensions and needs before designing the Cart Washer," said Midbrook Business Development Director Jamie Crowley.
"That allowed us to produce a machine that would fit their needs, and they wouldn't need to change anything about their current set-up."
The new Central Processing Cart Washer features full-view glass doors that allow the user to see into the wash area during the process. The doors are equipped with detection technology that ensures the safety of staff by preventing door closure if a person or object is obstructing the path of the door.
Inside the washer, a full halo-spray coverage pattern from the nozzles guarantees that the cart will be sprayed with a cleaning solution by a vertically automated spray configuration. This stage is followed by a superheated flash drying process.
"Our process delivers dependable, and repeatable, results", said Crowley. "By applying our years of experience washing manufactured parts for other industries, we were able to bring new concepts and ways of cleaning to this washer."
The Midbrook Cart Washer for Central Processing is versatile enough to clean several different items. IV Poles, waste containers, enclosed carts, stretchers, utility carts, and supply carts can all be cleaned by the Hospital Cart Washer process.
"We modify the process to match the needs of the specific client," said Crowley.
Midbrook is a worldwide leader in developing custom cleaning solutions for manufacturing operations.
"We bring unmatched technical expertise in design and manufacturing to the hospital arena with our new line of medical washers," said Crowley.
###