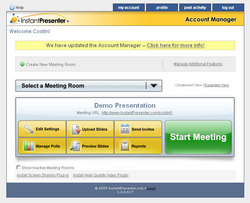 Huntington Beach, CA (PRWEB) February 4, 2009
InstantPresenter.com today announced upgrades to their web conferencing and webinar service, designed to provide customers with increased benefits and value for everyday business. The "Account Manager," which is the dashboard customers use to plan and launch online meetings has been greatly enhanced. In addition, the no-downloads, web-based service now provides a more streamlined experience between meeting attendee invitations, online meeting registrations, PayPal integration and post meeting surveys and follow-up.
"We strive to make it easy for customers to use our web conferencing tools successfully to achieve their business goals, and by continuously upgrading and improving these tools we bring more value to our customers," said Costin Tuculescu, CEO of InstantPresenter.com. "By introducing a full-circle registration system and new survey tools, customers are able to easily manage their online events, webcasts, and webinars from one easy-to-use and affordable service provider."
The "Account Manager" tool has been redesigned with a clean, glossy user interface, with easier short cuts to all commonly used features. Online meetings are now easier to plan, produce and execute than ever before. In addition, there is an option for a condensed or expanded view of the online meeting rooms. The condensed view creates simplicity when customers have multiple meetings rooms loaded in their account; the expanded view is the original display and perhaps the more comfortable option for existing customers already familiar with the service.
The new Survey Tool allows clients to receive feedback from their online meeting attendees regarding any given presentation. Customers can collect information about their content, performances and any custom information they may be interested in, through the use of custom fields. This valuable information can then be exported into an Excel compatible format to be later used for marketing and lead generation purposes. The new Survey Tool feature has been fully integrated with the registration and PayPal integration feature which gives presenters a full, turn-key event management solution.
For more information about InstantPresenter.com and the new upgrades, please visit http://www.InstantPresenter.com.
About InstantPresenter.com
InstantPresenter.com is a browser based web conferencing, video conferencing, webcast and webinar service that uses cutting edge Flash technology to allow customers to present online. InstantPresenter.com uses video, VoIP, PowerPoint and more without the need to download and install additional software or purchase additional hardware.
CONTACT:
Lauren Harris
(714) 890-3008
###