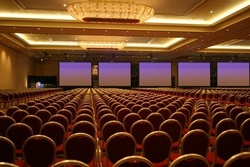 The Millionaire Real Estate Agent.
Atlanta, GA (Vocus) February 4, 2009
Registration is now open for the 2009 http://www.retechsouth.com
Our title sponsor is the new Better Homes & Gardens Real Estate.
After astounding success with last year's conference, the event returns to Atlanta in 2009, bringing together the best minds in the real estate industry. The conference will be attended by realtors, brokers, lenders, builders and other real estate leaders that want to learn from - and share with - one another about how technology can improve our business. REtechSouth will be held Friday, March 20, 2009 at the Gwinnett Center in Duluth.
The keynote presentation will be given by Dave Jenks, a leader in the real industry and co-author of four best selling books, including "The Millionaire Real Estate Agent." Jenks has spent close to 30 years in real estate with Century 21 and Keller Williams Realty. He recently launched FreeEnterpriseWarriors.com a Web-based company dedicated to providing business wisdom, strategies and tactics to the growing entrepreneurial global transformation.
REtechSouth will challenge the technically advanced real estate professional while still delivering the nuts and bolts "getting started" info to beginners.
The schedule of events for the day strives to answer some of the most pressing industry questions.
The conference will start with our" State of the REunion" address, a conversation about the status of technology in the real estate business today. General topics to be covered during the Main Stage include social media for real estate, SEO, Google Adwords, Blogging for Leads, Real Estate Video, New Media Tips/Tactics, the Future of Real Estate Search and more.
Other learning opportunities include the REtechLab, which will offer basic training for attendees in blogging, social media, email marketing, personal branding and more.
Don't miss the REtechCamp where we will cover the advanced topics of future real estate office design, writing posts for link bait and more.
Finally, REtechStations will offer a place to drop by and ask an expert specific questions one-on-one.
REtechSouth also welcomes vendors to the conference to showcase their products, but more importantly, to engage with the audience.
Sponsorships, though limited, are also still available.
###