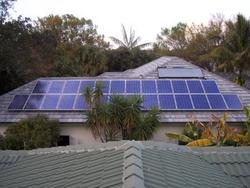 The most common question we get once a system is installed is - Why doesn't everyone do this?
Jupiter, FL (PRWEB) February 5, 2009
Solar energy has finally become affordable is a fact residents and building officials are finally realizing as of February 2009. Last week, Abundant Energy Inc. a 25 year old, locally owned and operated solar energy contractor installed the Town of Jupiter's first electricity generating solar power system.
Brian and Emily O'Mahoney are not only the first home owners in their deed restricted community, The Shores in Jupiter, to install a solar electricity generating system for the world to see. They are the first home owners in their entire town!
Even with the rising costs of electricity, fluctuating gasoline prices, sinking property values, an uncertain economy and a new roofing project underway, Brian and Emily decided it was time to make the investment in their home they have been talking about for decades, go solar.
The solar investment for the O'Mahoney's was made easy and affordable by the increased incentives that are available from the State of Florida, Federal Government and Local Property Taxing authority. In total, they are going to receive over $30,000 in incentives to help pay for their system. In addition to massive incentives, they will no longer be plagued by rate hikes from their utility provider FPL.
To make it easy on everyone, Abundant Energy Inc, collaborated with the O'Manoney's roofing contractor, Legacy Roofing, a roofing contractor who not only does a great job, but also promotes sustainable business practices by recycling old roofing materials such as tiles and shingles with each job.
The completed project a combination of Solar Water Heating (SHW), Photovoltaic's (PV) and a Solar Powered Pool Pump will be offsetting their average electricity cost by nearly 100%, sometimes more. Abundant Energy will also handle coordinating all of the paperwork with FPL the utility provider to set up agreements that allows the O'Mahoney's the ability to sell excess power back to the utility grid under a program supported by FPL called net-metering.
"Solar Energy is clean, affordable and we make it simple," said Justin Hoysradt, VP of Sales and Marketing for Abundant Energy, "The most common question we get once a system is installed is - Why doesn't everyone do this?" A question, we are sure, Justin and the team at Abundant Energy try to figure out on a daily basis.
For additional information related to how you can help the environment, see if your home is right for solar and to learn about the government incentives, contact Abundant Energy Inc. or visit http://www.abundantenergy.com.
About Abundant Energy Inc:
Abundant Energy Inc is a locally owned and operated solar energy contractor in the State of Florida. They have installed over 12,000 residential solar systems for heating swimming pools and as groSolar Medallion partner offers the technical and installation experience of over 1,000 solar PV systems. Abundant Energy has recently installed major solar installations for Frenchman's Creek Country Club in Palm Beach Gardens, Broken Sound Country Club in Boca Raton and two Palm Beach County Schools, FAU Pine Jog, Lake Worth and St Andrews in Boca Raton.
About Emily O'Mahoney:
Emily O'Mahoney LEED AP, the owner of the new solar energy system is a partner in the Jupiter, FL. firm, Gentile, Halloway and O'Mahoney a leading provider in landscape architecture, land planning and environmental consulting. At GHO we believe people and the environment are part of the same continuum. Sustain one, sustain the other. We strive to improve the Quality of Life by balancing and enhancing resources for our clients' success while respecting the community, the environment and ultimately our future.
http://www.landscape-architects.com
About Legacy Roofing and Contracting:
Legacy Contracting Solutions is an innovative Roofing and General Contracting company, proud to be an Energy Star Partner incorporating Environmentally Responsible Construction practices into everyday Operations. From recycling all removed concrete tile (over One Million Pounds kept out of the landfill to date!), to material recommendations, balancing Durability, Energy Efficiency, and Hurricane Mitigation, to offsetting all company Carbon emissions, they are striving every day to leave a lasting Legacy of positive change. Their latest efforts are focused on Planted Green Roofs, which together with clean renewable Solar Energy solutions can transform a building from a Consumer of resources to a Producer of resources with a positive impact on the Environment."
# # #