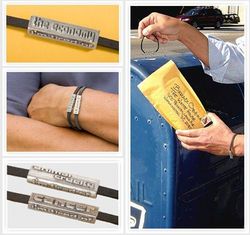 I'm Tired of The Economy __title__ I'm Tired of Bracelets]
Santa Monica, CA (PRWEB) February 4, 2009
"I'm Tired of…" (ITo), the makers of philanthropic, eco friendly "statement" bracelets, has announced that it is officially sick and tired of the economy and all of the lingo that goes along with it. Today, the company announced its own "Economic Stimulus" solution with the introduction of the "I'm Tired of The Economy" bracelet.
"The 'I'm Tired of…' campaign was launched just three months ago by brother and sister team, Dan Hoffman and Carrie Pollare, to fight against the world's issues that we are all tired of, like animal cruelty, world hunger, global warming, cancer, diabetes and so many more. The fashionable bracelets are made from recycled tires and metals, creating a fun play on the word, tired, and cost just $10, so anyone can afford them. Then half the sale ($5) from each one is donated to charities the company is aligned with that support each cause.
"But, you have to admit that the "I'm Tired of…" concept lends itself to humor, as well, and with all the talk about the economy, we couldn't resist," Hoffman said. "The US economy stinks and it's all we're hearing about. Unemployment is brutal. Foreclosures abound. If you play in the stock market…well…I won't even begin to rub salt in that wound. There are huge bailouts that we will end up paying for and out of control wall street executive salaries, while those dummys are bankrupting our nation. Who isn't sick and "tired" of all of this.
"And, we're also tired of hearing about "Economic Stimulus Packages," designed to "stimulate" the economy," he ranted. "So, we are protesting the only way we know how (and having a little fun in the process)…by introducing the 'I'm Tired of The Economy' bracelet and our own 'Economic Stimulus' solution. It's our first 'tongue-in-cheek' bracelet. Instead of making a donation of half the sales to charity, when someone buys an 'I'm Tired of The Economy' bracelet for $10, we give the consumer a $5 'Economic Stimulus Instant Rebate' that comes right off their order! Our only requirement, in keeping with the spirit of an 'economic stimulus package' is that they have to go out and spend their rebate to 'simulate' the economy," he joked. "We recommend a cup of Starbucks, a Big Mac or maybe splurge on a couple gallons of gas."
Hoffman said the company is even sending one to President Obama because they imagine he's already pretty sick of the economy too. (Did you hear his 2 ½ minute rant about Wall Street bonuses?)
The "I'm Tired of The Economy" bracelet can be purchased at http://www.ImTiredOnline.com, as well as bracelets supporting other causes, including AIDS, Autism, Alzheimer's, Cancer, Child Abuse, Diabetes, Global Warming, Heart Disease and World Hunger. For more information, visit http://www.ImTiredOnline.com. Press contact is Carrie Pollare, carrie [at] ImTiredOnline.com, 310-314-3660.
###