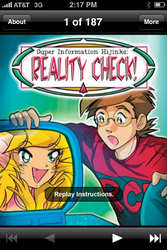 Reality Check! is a lighthearted and fun cyber-fantasy story fully realized with complicated characters, beautiful art and a great deal of humor
Kansas City, MO (PRWEB) February 4, 2009
The original manga tale Super Information Hijinks: Reality Check! is available now on iPhone and iPod Touch from Uclick, the #1 distributor of comics and games on mobile phones. Volumes 1 and 2 are presented in eight apps available for download on the iPhone App Store at $.99(US)cents each.
Produced by the creative team of Tavisha Wolfgarth-Simons and Rikki Simons, creators of the popular manga ShutterBox, Super Information Hijinks: Reality Check! is the story of a boy named Collin Meeks, his cat Catreece, and their adventures in a virtual world via a Virtual Reality helmet. Volumes 1 and 2 follow the adventure of Collin and Catreece as they make new friends online and in the real world.
"Reality Check! is a lighthearted and fun cyber-fantasy story fully realized with complicated characters, beautiful art and a great deal of humor," said Uclick CEO Douglas Edwards. "And cutting edge technology is vital to the plot in Reality Check!, so it's only fitting that we're bringing it to the devices that currently represent the cutting edge of mobile technology, the iPhone and iPod Touch."
Super Information Hijinks: Reality Check! joins a growing line of manga titles from Uclick for the iPhone and iPod Touch that includes Dramacon and new, manga-style modernizations of classic teen detectives The Hardy Boys and Nancy Drew. Uclick has created dozens of comic apps in recent weeks, including Bone, Grounded, GODLAND, and Halo & Sprocket, as well as webcomic collections Pibgorn, Basic Instructions and We the Robots.
The iPhone Uclick apps feature tap-and-swipe, panel-by-panel controls. The large multi-touch screen on the Apple devices enables clear, high-resolution presentation, but users can also utilize the zoom feature to get an even closer look at any panel.
To get Super Information Hijinks: Reality Check! and other favorite comic books, manga and graphic novels for the iPhone and iPod Touch go to the new Uclick Web App by typing Uclick.com into the Safari browser or visit the App Store on the iPhone or on iTunes.
About UCLICK:
UCLICK® is the leading digital entertainment provider of humor, comic strips, manga, graphic novels, editorial cartoons, and other content for desktop, web and mobile phones. Uclick is also the leading creator and distributor of crosswords, and other word and number puzzles. Partners featuring Uclick content include the leading consumer portals Yahoo!, MSNBC.com, New York Times, Slate.com, washingtonpost.com, CNN, USA Today, and AOL. Uclick features include the top brand franchises Garfield, Doonesbury, Calvin and Hobbes, Paul Frank, Teenage Mutant Ninja Turtles, TOKYOPOP, USA Today, Pat Sajak, Wyland, and many more. Uclick creative content and services are available through the GoComics.com website, U.S. mobile phone operators, the iTunes App Store, and other distributors worldwide. UCLICK, LLC is a division of Andrews McMeel Universal, the leading newspaper syndicate and publisher of humor books and calendars in North America.
For more information on Uclick, visit http://www.uclick.com.
About Studio Tavicat:
Studio Tavicat: Tavisha Wolfgarth-Simons and Rikki Simons met at Disneyland in February, 1990 and were married on October 31, 1994. Tavisha and Rikki currently live in Los Angeles, California where they make manga influenced comics and novels.
Visit http://www.tavicat.com for more information.
###