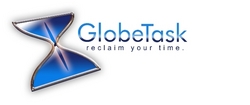 There's an old saying that, to succeed in business, you should try and make money while you sleep. But we believe, it's more about having your work done while you're asleep
Minneapolis, MN (PRWEB) February 10, 2009 –-
The virtual assistant services company, Globetask (http://www.globetask.com ), is helping companies stay in business after tough economic times have forced layoffs. As U.S. job losses passed the 2 million jobs mark at the end of 2008, companies are now getting creative to hold on to the staff they still have at all costs just to stay in business until the economy improves. Globetask has seen the demand for virtual assistant support increase sharply heading into the first quarter of 2009.
While some U.S. companies are examining the four-day workweek and unpaid leave programs to cut staffing costs, many others are turning to long-term, low-cost contract help from firms such as Globetask.
"Companies don't want to lose their valued people," says Richard Weinberg, Globetask. "But they can't afford to go under either. For businesses that have experienced layoffs but still find themselves under pressure to take care of orders or workload, bringing in virtual assistant help may be the answer to keeping them profitable until the economy picks up and they're able to staff up again."
Globetask argues virtual assistance can act as a lifeline for businesses in two ways: firstly, to help ease the burden of workload whether a company's workforce has been downsized or business has increased; and secondly by outsourcing certain time consuming tasks such as admin, filing, data base management and sales processing to a team of low-cost virtual assistants, a company can focus its staff more effectively on high priority and higher level work.
Virtual assistant service got its start as an industry several years ago when individuals set up shop, usually at home, to help busy executives with their appointments and scheduling among other tasks. But the industry has really taken off in the corporate world where companies can outsource sales support, administration, marketing and many other functions as needed.
"We have around 300 clients across the country and western Europe now and almost every one of them comes to us with the desire and need to increase efficiency," adds Weinberg. "That number is growing not just because managers want to lower their staffing costs but also because the economic situation is in a way freeing them up to think and act more creatively for both their short and their long term needs."
Founded in 2006, Globetask has already experienced rapid growth, building an international pool of virtual assistants and a management staff of ten headquartered in the firm's Jerusalem central office. The firm is unique in that it offers clients only American and British account managers who understand the nuances of doing business in the US or Europe, while still passing on the lower labor costs of its Israel-based operation. Managers provide support services and project management for a wide range of clients and activities -- typically overnight while US business sleeps.
What Businesses Gain from Virtual Assistant services:

Flexible contract help with workload issues
Lifeline for-hire resources in good times and bad
Ability to focus company staff on high level work and reduce the cost of having administration and lesser priority work handled by cost-effective virtual assistants
Wide range of services from $8-12 an hour including: basic scheduling, time consuming data entry, account maintenance, customer service tasks, personal and business scheduling and graphics production
Project completion in off-peak work hours
"There's an old saying that, to succeed in business, you should try and make money while you sleep. But we believe, it's more about having your work done while you're asleep," says Richard Weinberg.
About GlobeTask
GlobeTask is a premier global provider of virtual assistant services. Founded in 2006, the company has grown rapidly to become a leader in the field by providing an account manager and team of virtual assistants for each client. Headquartered in Jerusalem, Israel with a staff of ten American and British account managers, GlobeTask manages an international pool of virtual assistants. The company offers US-based and other global clients round the clock administrative, client relations, accounting and personal assistance for a fraction of the cost of hiring a full time or temporary staff member in the United States or Western Europe. For more, visit http://www.globetask.com.
GlobeTask Contact:
Richard Weinberg
1-877-GLOBETASK
Media Contact:
Steve Gill
Ghost Communications
612-839-9730
###