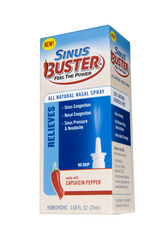 Parsippany, NJ (PRWEB) February 5, 2009
SiCap, LLC launched Sinus Buster as the world's first hot pepper nasal spray in 2004 with a handful of sales on eBay. By 2007, the brand was in more than 2,000 regional stores and had attracted significant media attention. However, national distribution in retail drug chains was still out of reach for the fledgling company. Then in 2008 SiCap caught the eye of Dynova Laboratories, a manufacturer of natural over the counter remedies. After acquiring SiCap last summer, Dynova invested heavily to upgrade packaging and manufacturing for the Buster brand. Thanks to the expertise of the Dynova team, Sinus Buster and its sister brand Allergy Buster will be sold in over 5,000 Rite Aid drug stores.
"This is big deal for us. As one of the founders of Sicap, it's incredibly rewarding to see our products taking the next big step into national distribution," says Roberto Sasso, Director of Operations for SiCap.
Sinus Buster and Allergy Buster have already hit the distribution warehouses of Rite Aid, and both products are being placed on shelves throughout the country. In addition, Dynova is gearing up for a breakthrough marketing campaign to drive consumers into Rite Aid once all the shelves have been filled.
"Rite Aid is an extremely important retailer with great locations, excellent merchandising and a loyal shopper base. We're thrilled to have both Sinus Buster and Allergy Buster in distribution with Rite Aid," says Jeff Vernimb, VP of Marketing and Sales for Dynova Laboratories.
Both products use capsaicin, the natural extract responsible for the heat of hot peppers. Capsaicin has been shown to relieve a variety of sinus symptoms and headaches. Sinus Buster is the original capsaicin formula targeting nasal congestion, sinus pressure and headache pain. Allergy Buster incorporates natural Nettle extract along with the capsaicin to specifically target allergy symptoms. Both products are completely natural and are expected to be big sellers for the Rite Aid chain. Sinus Buster is already on the shelves and Allergy Buster is expected to be in full distribution by the end of February, just in time for allergy season.
###