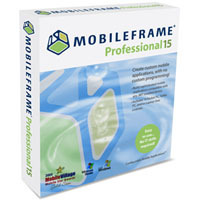 MobileFrame's software has become the mobile platform standard at companies like JD Irving, Miller Pipeline, the US Navy and the Harris Corporation because of its unparalleled ease of use
San Jose, Calif. (PRWEB) February 6, 2009
MobileFrame, LLC (http://www.mobileframe.com) today announced release of version 4.5 of their Configurable Mobile Application™ Product Suite. MobileFrame's solution is the only truly Configurable Mobile Application™ Platform in the industry that enables novice users to create and deploy custom mobile applications without custom programming. MobileFrame's software platform is an entirely self-contained mobility system that provides full functionality out-of-the-box, with no custom programming, no third party mobile gateways, synchronization engines or SDK's required. With version 4.5, MobileFrame has added a slew of useful features such as real-time instant messaging, the ability to capture device snapshots, and support for the latest hi-resolution devices.
Instant Messaging. With MobileFrame's proprietary secure end-to-end instant messaging capability, administrators have full control and authorization over message senders, recipients and message grouping including full message audit record logs. In addition, this messaging operates in both connected and disconnect modes. MobileFrame is the only solution on the market with these messaging features built-in.
Enhanced System Administration. The Server Manager functionality has been enhanced to provide for increased scalability. The User Administration screen now supports grouping for better organization of large numbers of users. For example, you can now group device data by device name, OS version, device platform, device OEM, etc.
Device Snapshots. MobileFrame's Device Snapshot feature gives administrators the ability to capture a screenshot of a remote device's current screen. Administrators now have the ability to see exactly what the field worker sees on their device; a great resource for training, oversight and troubleshooting.
Enhanced Device Support and Graphics Handling. Version 4.5 now provides enhanced support for recent mobile computing advances including high resolution devices and landscape mode. Version 4.5 also includes advanced graphics handling that conserves device memory, renders transparency even on Windows Mobile Devices, and provides a thumbnail-list of all graphics in use. The expanded capability to use graphics in applications allows customers to present a more compelling user experience to facilitate acceptance by field workers.
Other features of Release 4.5 include:

In-Field Annotation of Photographs. MobileFrame now provides field workers the ability to capture a photo in the field then annotate the photo on-the-fly. For example, a mobile worker might take a picture of a damaged product then circle areas on that picture to highlight the damaged areas.
Improved MobileFrame Remote Manager. The Remote Manager now provides the ability to view data in groups (such as group by device, employment role, etc), allowing better organization of information. The remote manager now displays the remaining battery, free memory, free storage, database size, last connected date/time and pending activities for each user. Version 4.5 also has added the ability for administrators in the back-office to initiate a synchronization of the mobile device. In addition, the Remote Manager allows full auditing of MobileFrame Instant Messages and export of all Remote Manager Data.
Secured PDF Documents. An updated PDF workflow now supports the generation of password protected PDF documents allowing restriction of viewing, editing, printing and copying.
Updated URL Operations. In addition to allowing opening a URL in the browser via workflow, the updated URL Operations now also allow sending of an HTTP request and receiving a response back from the URL (e.g., screen-scraping a website).
Enhanced Synchronization Engine. The Sync engine has been enhanced to improve performance and scalability.
Memory Use Optimized. Several optimizations throughout the platform have led to a more efficient use of memory.
MobileFrame offers three Product Suites with varying degrees of capability so businesses may select the most cost effective solution for their mobile enterprise:
MobileFrame Standard Suite™ runs on a MS SQL Server database and contains all of the functionality required to create and deploy sophisticated workflow for any customer's mobile workforce. The Standard Suite™ feature set includes conditional branching, basic math calculations, and peripheral device support [Cameras, Bar Code Scanners, Voice Notes, Digital Signatures].
MobileFrame Business Suite™ includes all Standard Suite functionality plus advanced workflow, support for additional peripheral devices, advanced calculator functions, and messaging/alerts.
MobileFrame Enterprise Suite™ includes all Business Suite functionality plus advanced messaging/alerts, Oracle, Sybase and DB2 database support and Java/Unix application server integration.
MobileFrame's Product Suites enable businesses to rapidly deploy a variety of mobile applications with a low total cost of ownership and a high return on investment. MobileFrame's Smart Architecture™ (Patent-Pending) provides a user friendly point and click desktop that enables novice computer users to easily create, deploy and manage sophisticated mobile applications without the need for costly and time-consuming custom coding typically required in mobile application development.
"MobileFrame's software has become the mobile platform standard at companies like JD Irving, Miller Pipeline, the US Navy and the Harris Corporation because of its unparalleled ease of use," said Lonny Oswalt, MobileFrame's CEO and President. "With release 4.5, our customers now have advanced features such as real-time instant messaging, device snapshots and enhanced device support along with the mobile enterprise data management, remote device configuration and update control, sophisticated workflow and prioritized synchronization capabilities that have been the foundation of our product suite. This release keeps MobileFrame at the forefront of enterprise mobility, providing customers the most flexible and comprehensive mobility system in the market."
MobileFrame Product Suite™ v4.5 is shipping now.
About MobileFrame
MobileFrame is the leading provider of Configurable Mobile Applications™ enterprise software that requires no coding or programming to create and deploy sophisticated mobile applications. With intelligent networking and synchronization built-in, MobileFrame's platform significantly streamlines mobile application development, deployment, and administration. MobileFrame eliminates custom programming through an intuitive, user friendly point-and-click graphical user interface, enabling novice computer users to quickly create and deploy custom mobile applications tailored to their business. MobileFrame is a privately held company headquartered in San Jose, California. For more information, customers may contact MobileFrame directly at 1-408-885-1200 or visit our website at http://www.mobileframe.com .
Contact:
Thomas J. Laughlin
MobileFrame LLC
(408) 885-1200
###