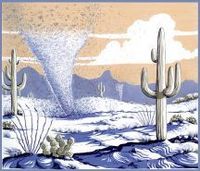 Native American Books of Change
Santa Fe, NM (Vocus) February 5, 2009
Allan Houser, Inc. is pleased to announce that the celebrated, Museum of Indian Arts and Culture in Santa Fe, NM will present the exhibition, "Native American Books of Change", running from February 15, 2009 to January 2, 2010. The exhibit features the original, tempera, paintings created for seven children's books illustrated by Allan Houser.
This exhibition was originally conceived and organized in 2004 in conjunction with a book by Rebecca C. Benes published by the Museum of New Mexico Press. While teaching in the 1950's at the Intermountain School in Brigham City, UT, Allan Houser illustrated children's books. Featured in the show will be seven of the original paintings by Allan Houser, originally published as book illustrations. They are among 120 such original paintings and pen & ink drawings in the Allan Houser Archives.
"Allan was among many talented artists who contributed to a wide range of books of all types" said Kim Bourne, CEO Allan Houser, Inc. "It is such pleasure to see his and the other artists represented in this exhibition".
Allan Houser's recognition as a sculptor began in 1948 with the completion of his first stone carving titled "Comrade in Mourning", commissioned for the Haskell School in Lawrence, Kansas. In succeeding decades he would refine his approach to stone sculpture and complete hundreds of works done in marble, alabaster, and limestone. As a sculpture instructor in the 1960's and 1970's he transferred his expertise and ideas to countless students and helped create what many art historians consider a renaissance in stone carving. In 1992, a PBS film documentary referred to him as "The Dean of Stone".
Allan Houser, Inc. was established in 1982 and its mission is to preserve and present the lifetime work of the Modern American Master Artist, Allan Houser. It also produces limited edition works from original molds or patterns created by Allan Houser and from molds provided by other select artists. Its offices are on a 110 acre estate south of Santa Fe which encompasses the late artist's studios, sculpture gardens, a gallery, and full-service art foundry. It also operates a gallery in downtown Santa Fe and maintains affiliations with galleries and museums across the US and the world.
The Museum of Indian Arts & Culture, one of four museums in the Museum of New Mexico system, is a premier repository of Native art and material culture and tells the stories of the people of the Southwest from pre-history through contemporary art. The museum serves a diverse, multicultural audience through changing exhibitions, public lectures, field trips, artist residencies, and other educational programs. Located just 5 minutes from the Historic Santa Fe Plaza on Museum Hill on Camino Lejo.
###