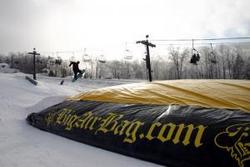 Windham, NY (PRWEB) February 5, 2009
The Big Air Bag has landed at Windham Mountain. Designed as a training tool for freestyle skiers and riders, the huge air-filled pad cushions the landing for aerial maneuvers. The Big Air Bag is manufactured in The Netherlands; Windham Mountain is the first site in North America and sole distributor of this product in the United States.
Measuring 56 feet long by 33 feet wide, this inflatable compression bag is situated near the jib park next to the D Lift, where skiers and riders have easy access and visibility. The black and yellow double-compartmentalized bag is made of a heavy-duty nylon and refills every 10 seconds to allow for a constant flow of traffic.
Shortly after the Big Air Bag debuted at Windham, 10-time X-Games medalist Jon Olsson visited to check it out. While inverts are not normally allowed, the staff allowed an exception for one of the world's top freestyle skiers. Olsson was all grins after playing on the bag and went on his way to try those same tricks at the X-Games in Aspen. The Today Show on NBC also took note of the new activity, with host Matt Lauer commenting that it looked "brilliant."
Like Olsson, Windham Mountain's freestyle skiing and snowboard programs will be able to take advantage of the Big Air Bag as a training aide, offering a great opportunity to take these programs to the next level. Athletes who are ready to perfect their routines can land safely on the bag. Prior to using the bag, Windham Mountain requires participants to listen to a brief safety message. Once out on the snow, the skier or rider goes off a jump, performing the desired aerial maneuver and then lands on the Big Air Bag. The bag allows the athlete to slide off onto the snow easily.
Windham Mountain, located in the northern Catskills town of Windham, New York, is a family-friendly winter resort that offers skiing, snowboarding, snow tubing and many other winter activities. Just 2.5 hours from New York City, Windham Mountain offers beginners, intermediates and experts the chance to experience its two adjoining mountain peaks. With a summit elevation of 3,100 feet and vertical drop of 1,600 feet, Windham boasts a 98% snowmaking capacity. For more information, go to http://www.windhammountain.com.
###