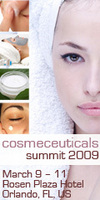 Each year since its launch in 2006, IntertechPira's Cosmeceuticals Summit has raised the bar in terms of the information provided to participants.
Portland, Maine (PRWEB) February 5, 2009
IntertechPira, a leading conference and research organization, is offering HBA X-Ceuticals attendees the opportunity to attend IntertechPira's Cosmeceuticals conference at a 20% discount.
Set for March 9 - 11, 2009 at the Rosen Plaza Hotel in Orlando, FL, US and Co-Chaired by Dr. Nava Dayan, Director, Research and Development, Lipo Chemicals, Dr. Philip Wertz, University of Iowa and Wen Schroeder, President, SEKI Cosmeticals LLC, this 4th international conference will include sessions on regulatory issues, the innate immune system of the skin, skin aging and innovations and new developments.
"Each year since its launch in 2006, IntertechPira's Cosmeceuticals Summit has raised the bar in terms of the information provided to participants." said Conference Director Christine Groff. "2009 continues in this vein with the inclusion of a new session, the innate immune system of the skin. We want to make sure that as many people as possible are able to participate in this unique industry event. Therefore in recognition of the current economic situation and the fact that travel costs to Orlando may not be within budgets, we have decided to extend this offer to HBA X-Ceuticals attendees."
Featuring a holistic approach, speakers in this unique event will be specialists in a variety of disciplines from science, R&D, law, regulatory philosophy and marketing, and will offer a balanced combination of representation from academia, industry, regulatory authorities and research facilities. Confirmed speakers providing strategic insight from the cosmeceuticals industry include: Ben Gurion University, CeeTox Inc., Coty Testing Institute, Diffusion LLC, EMD Chemicals, Ernst & Young LLP, Estée Lauder Companies, Genemarkers LLC, Lipo Chemicals, Massachusetts College of Pharmacy and Health Sciences, MatTek Corporation, National Advertising Division of the Council of Better Business Bureaus Inc, NBMI/XetaComp Technology, Nu Skin Inc, SEKI Cosmeticals Inc and The University of Iowa.
NBMI/XetaComp Technology LLC and Genemarkers LLC recently joined the agenda with both presentations to be featured in the Innovations and New Developments session
Charles Sheeny, President of NBMI/XetaComp Technology will speak on the aspects of nanoscale physical sunscreens by featuring a review of the performance impact of nanomaterials such as titanium and zinc oxides and their potential commercial aspect. Anna Langerveld, PhD, President and CEO of Genemarkers LLC will present on the use of genomics tools in skin care. She will discuss specifically how genomics can aid in formulating products and validate efficacy claims as well as the use of high throughput technologies for measuring gene expression and gene sequence, the use of gene expression tools to understand biological mechanisms in skin and current use of genomics in skin care industry and outlook for the future.
To view the final program and to learn more about the speakers, presentations and exhibitors visit the official website at http://www.cosmeceuticals-summit.com.
About IntertechPira
IntertechPira provides events, training, online information and publications across a wide range of zeitgeist issues and disruptive technologies affecting industry. Our 100% independent products are provided globally 24/7 and delivered by teams of independent experts at sites in Portland, ME, US and London, UK through 20 specialized industrial platforms. Our core competencies are information on: research and product development, globalization and new markets; production methods; regulatory and compliance.
###