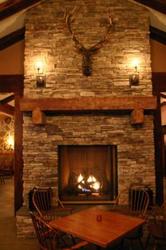 Windham, NY (PRWEB) February 6, 2009
"Wow." It is by far the most common word expressed when people enter the new Club at Windham Mountain, and for very good reason. Part of $5 Million in upgrades to the base lodge and mountain, the space is comparable to what can be found at the world's premiere alpine clubs, at places like Deer Valley, Beaver Creek and Aspen. With luscious interior design and abundant timber and stone elements, the club evokes the romance of what people often imagine for a ski lodge - but almost never get. If the look of bliss on the face of that person curled up on the couch next to a roaring fire is any indication, Windham has a big hit on its hands.
Yes, it is a private club and there is already a long waiting list to get in. But there are still opportunities for the general public to enjoy world-class service in this first-class setting. Dinner reservations are accepted after 4pm on Fridays and Saturdays when seating is available. Reservations are not available before that time. To make reservations or inquire about seating availability, please call Club Concierge Dory Noll at (518) 734-4300 ext. 1360. Dress in the club is "nice casual." Ski or snowboard boots are not allowed.
The Club is also beginning to book weddings and corporate meetings. The view from this space is spectacular, but the menu is even more inspiring. For more information on how to bring your group event to Windham, contact Cindy Mace at (518) 734-4300 extension 1133 or cmace@windhammountain.com.
If you haven't been to Windham for a while, it may be time to check back. The resort has invested over $11 million in mountain and base lodge improvements over the past three years, and it shows. You just may find yourself uttering that same one word review: Wow.
###