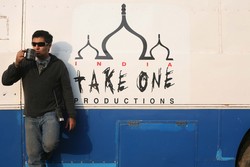 Los Angeles, CA (PRWEB) February 5, 2009
As line producer on everyone's film of the year, "Slumdog Millionaire," nominated for 10 Academy Awards, 11 BAFTA's and winner of four Golden Globes including Best Picture, Director, Adapted Screenplay and Score, Los Angeles-based Tabrez Noorani took on one of the most memorable endings to any film in recent memory: A Bollywood dance number with thousands of Kurta and Saree-clad men and women dancing in and out and on top of the trains in Victoria Terminus. A train station filled with more than 6 million passengers every day. A location that's only closed to the public for two-and-a-half hours each night. A station filled with dangerous, live, exposed electrical wires for actors and lighting techs alike to dodge.
As Slumdog's glorious results showed, Noorani is up to the most challenging of tasks.
That is why Tabrez Noorani and his company, India Take One, have quickly become the go-to production house for A-list filmmakers looking to shoot in India--including Danny Boyle (Slumdog) , Oliver Stone (Alexander), and Will Smith (Extreme Cities).
Noorani trained at the heels of his uncle, renowned commercial and documentary filmmaker Zafar Hai, in Bombay before heading to Loyola Marymount University Film School in 1991. As a director, his first student film, "Disturbance," won the best experimental student film at the Venice Film Festival in 1993. Soon after, Noorani trained under independent producer Deepak Nayar, line producing commercials and music videos for David Lynch and Wim Wenders.
In 1995, Noorani formed India Take One Productions http://indiatakeone.com/, specializing in the production of U.S. and European commercials, features and music videos in India. Today, as more and more directors look to India as a dream location filled with cinematic wonders, Noorani is there to bring their films to life. With none of the set guidelines or film industry restrictions that exist in the United States--especially regarding children--filming in India requires a professional and ethical sensibility that Noorani and India Take One bring to the table.
Today, Noorani has also begun work on his first feature as a director: "Love Sonia," http://www.lovesonia.com a story based in the world of global sex trafficking, based on real events and spanning three continents. For more information on Tabrez Noorani and India Take One Productions, contact his rep Alexandra Villa at In House Public Relations.
PR Contact: Alexandra Villa/ In House Public Relations
Alexandra @ in-housepr.com
###