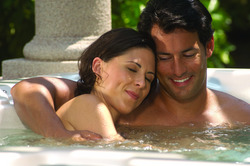 Pomona, Calif. (PRWEB) February 5, 2009
For many hot tub owners, a special swimsuits-optional Valentine's evening is the perfect way to connect with that special someone--and in this time when everyone is watching their wallets, it is a great way to have fun without breaking the bank. A hot tub session can cost as little as four cents per hour and it can be the ideal setting for making memories. To make the most out of your Valentine's Day soak session, Cal Spas recommends planning in advance so that the big day is carefree. Cal Spas offers five simple steps to a smooth Valentine's evening:
1.Set the Menu: Decide in advance what foods and drinks you will serve for the big night. While decadent chocolate dipped strawberries are a favorite, your plans don't have to be extravagant or expensive to make the night special. Remember that presentation is everything! If you plan on serving milk and store bought cookies, serve the milk in champagne glasses and plate up the cookies on a bed of powdered sugar. Whatever you serve, be sure to avoid the last minute rush and buy your ingredients up to 3 days in advance. If you find yourself stopping at the store at the last minute, pick a few of your partner's favorite foods and plate them up in your kitchen.
2.Check Water Clarity Early: Uncover your hot tub, look for water clarity and check pH balance. pH is the measurement of the acid in water. The normal pH level for most spas is between 7.2 to 7.8 and can be easily tested with simple test strips. Now is the time to stock up on chemicals if you're low. Check the water again 24 hours before the big night and correct any pH level changes. Visit your local dealer for specific water clarity tips for your model of hot tub. For an interactive Cal Spas clear water guide or for answers to common water clarity questions, visit Cal Spas Clear Water Guide
3.Set the Mood: Music and lighting are important in setting the mood. Make a special playlist to play on your spa's stereo; if your spa doesn't have a stereo, make plans to bring a portable stereo outdoors and decide in advance what music to play. If your spa has LED lighting, you have a built-in mood lighting solution. If not, you can use candles or hang outdoor lighting around your spa to make the evening special.
4.Spice Up a Valentine's Tradition: Don't wait until the last minute to decide to surprise that special someone. You can never go wrong with the classic surprise trail of rose petals and twinkling candles, especially when the trail leads to a luxurious hot tub, good food, great music and the company of someone special. If your someone has a talent for squeezing the surprise out of you early, consider planning the evening together but reserving a few special treats (like a favorite chocolate or ice cream) for Valentine's night.
5.Stage and Enjoy!: The beauty about celebrating Valentine's at home is that you're on your own schedule and you'll avoid the Valentine's rush. With some simple planning in advance, you can uncover your hot tub, light a few candles, bring out the food and enjoy an intimate evening with your Valentine.
If you're in the market to buy a hot tub, it's not too late to buy your Cal Spas for Valentine's Day delivery. Many Cal Spas dealers are willing to rush delivery in time for Valentine's if you tell them that you're planning a special evening.
Cal Spas® was founded in 1979 as a provider of luxury hot tubs. Today, the celebrated hot tub maker is world renowned as the #1 Global Manufacturer of Home Resort Products™. The company produces premium collections of lifestyle products from its headquarters in Pomona, Calif. and distributes worldwide through a network of specialty dealers. The Cal Spas brand family of products includes Cal Spas hot tubs and swim spas, Cal Designs gazebos, Cal Heat indoor and outdoor saunas, and Cal Flame high-end outdoor grills, outdoor kitchen islands, outdoor fireplaces and firepits. Learn about Home Resort Living and find the dealer near you online at http://www.calspas.com.
###