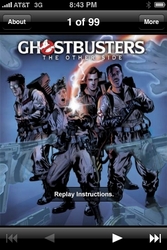 I think everyone loves the idea of these four geeky, wisecracking scientists taking on threats that would evoke sheer terror in any sane person
Kansas City, MO (PRWEB) February 5, 2009
They've battled sliming phantasms, a towering marshmallow mascot, demon-possessed paintings and more. And now the Ghostbusters are ready to face off against the paranormal on your iPhone and iPod Touch, courtesy of Uclick, the #1 distributor of comics and manga on mobile. Issue 1 of the comic book series Ghostbusters: The Other Side from IDW Publishing is available now for download on the iPhone App Store at $.99(US) cents, with more issues scheduled for release in the coming weeks.
With special 25th anniversary DVD and Blu-ray™ editions of the 1984 movie and a new video game for the PC, Playstation® 3, XBox 360®, Nintendo® Wii™ and Nintendo® DS™ slated for summer 2009 release, interest in Ghostbusters remains extremely high. Ghostbusters: The Other Side, by comics veterans Keith Champagne and Tom Nguyen, stars the same characters made famous in the original Ghostbusters movies, as Drs. Peter Venkman, Egon Spengler, Ray Stantz and Winston Zeddemore come face to face with the ghosts of some of the most notorious gangsters in history.
"I think everyone loves the idea of these four geeky, wisecracking scientists taking on threats that would evoke sheer terror in any sane person," said Uclick CEO Douglas Edwards. "Fans of the Ghostbusters movies are going to love reading this story on the iPhone and iPod Touch, because it's a new way to experience these characters. Ghostbusters: The Other Side is an original comic book story that perfectly captures the horror comedy elements and anti-hero spirit of the movies."
Uclick is the leader in comic book, graphic novel, comic strip and manga applications on the iPhone and iPod Touch, with more than 90 brand name hit titles including: Jeff Smith's Bone, Teenage Mutant Ninja Turtles, Grounded, GODLAND and Halo & Sprocket, as well as webcomic collections Pibgorn, Basic Instructions and We the Robots and the manga hits Dramacon and Guilstein.
The iPhone Uclick apps feature tap-and-swipe, panel-by-panel controls. The large multi-touch screen on the Apple devices enables clear, high-resolution presentation, but users can also utilize the zoom feature to get an even closer look at any panel.
To get Ghostbusters: The Other Side and other favorite comic books, graphic novels and manga for the iPhone and iPod Touch go to the new Uclick Web App by typing Uclick.com into the Safari browser or visit the App Store on the iPhone or on iTunes.
About UCLICK:
UCLICK® is the leading digital entertainment provider of humor, comic strips, manga, graphic novels, editorial cartoons, and other content for desktop, web and mobile phones. Uclick is also the leading creator and distributor of crosswords, and other word and number puzzles. Partners featuring Uclick content include the leading consumer portals Yahoo!, MSNBC.com, New York Times, Slate.com, washingtonpost.com, CNN, USA Today, and AOL. Uclick features include the top brand franchises Garfield, Doonesbury, Calvin and Hobbes, Paul Frank, Teenage Mutant Ninja Turtles, TOKYOPOP, USA Today, Pat Sajak, Wyland, and many more. Uclick creative content and services are available through the GoComics.com website, U.S. mobile phone operators, the iTunes App Store, and other distributors worldwide. UCLICK, LLC is a division of Andrews McMeel Universal, the leading newspaper syndicate and publisher of humor books and calendars in North America.
For more information on Uclick, visit http://www.uclick.com.
About IDW Publishing:
IDW is an award-winning publisher of comic books, graphic novels and trade paperbacks, based in San Diego, California. As a leader in the horror, action, and sci-fi genres, IDW publishes some of the most successful and popular titles in the industry including: television's #1 prime time series CBS' CSI: Crime Scene Investigation; Paramount's Star Trek; Fox's Angel; Hasbro's The Transformers, and the BBC's Doctor Who. IDW's original horror series, 30 Days of Night, was launched as a major motion picture in October 2007 by Sony Pictures and was the #1 film in its first week of release. In April 2008, IDW released Michael Recycle, the first title from its new children's book imprint, Worthwhile Books. More information about the company can be found at http://www.idwpublishing.com.
# # #