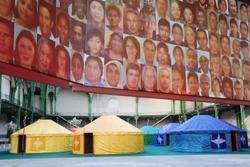 Paris, France (PRWEB) February 7, 2009
Renowned French photographer Yann Arthus-Bertrand's exhibit "6 Billion Others", transforms Paris' Grand Palais into a global village of 25 yurts. The yurts, made by The Colorado Yurt Company, are populated with video interviews of 6000 people representing 65 countries. This new work compels the viewer to consider 25 of life's vital questions through video testimonials; it brings Arthus-Bertrand's photo exhibit "Earth from Above" (opening NYC's World Financial Center Plaza this May) down to the ground level of human experience, global thinking and sustainable living.
Each of the 25 yurts--traditional round tents of Central Asia--is a theater where one of life's fundamental questions is considered and answered with personal stories ranging from the horrors of a refugee camp to ­the wonders of enduring love. The yurts, stand with door open welcoming Parisians and tourists who can wander freely through the village and into each yurt.
"Our company was thrilled and honored to partner with Arthus-Bertrand's group, GoodPlanet.org, in a project of global significance," said Emma Kigar, Colorado Yurt Company founder. "Our contemporary re-engineering of the traditional yurt appealed to the artist and designers in Paris. The video presentation requires specific control of sound and light and the yurt structure is simple and elegant, plus it has the allure of a traditional, nomadic dwelling."
"6 Billion Others" is open in the Grand Palais, 19 Rue Victoire, through February 12th. Fee to enter the exhibit is 5 Euros (perhaps one of Paris' best bargains this season). Plan to stay long enough to visit one of the video studios and add your testimony to the 6000 already recorded. If a trip to Paris is not in your travel plans, GoodPlanet.org expects to present the exhibit around the world, perhaps with bookings in San Francisco and Mali.
For additional information on the "6 Billion Others" exhibit or the yurts made by the Colorado Yurt Company, contact Dan Kigar, president of The Colorado Yurt Company, at (970)240-2111. You may also visit http://www.6milliardsdautres.org or http://www.coloradoyurt.com.
About The Colorado Yurt Company:
The Colorado Yurt Company is one of the largest manufacturers of yurts in the world. The company was founded in 1977 by current owners Dan and Emma Kigar. In addition to Colorado Yurts, the company also manufactures Earthworks Tipis and Cimarron Canvas Wall Tents.
###