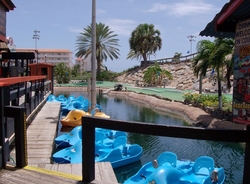 As a fully functional entertainment complex, this Eagle Beach location is a prime spot to capitalize on multiple resorts in the immediate surroundings
Kenner, LA (PRWEB) February 10, 2009 –-
Commercial real estate advisory firm Sperry Van Ness (SVN) has been commissioned to auction off to the highest bidder the Aruba Entertainment Complex which contains the Adventure Golf course and Aruba Grand National speedway. The assets will be sold to the highest bidder above minimum of $975,000. Bids are due by 3 pm CST February 27, 2009.
Located on Eagle Beach in Bubali, Aruba and in close proximity to 22 resorts, the sports and entertainment complex includes a mini golf course, two eating establishments, a game arcade, batting cages, a go kart race track, and more.
According to David E. Gilmore, CCIM, CAI, AARE of Sperry Van Ness Accelerated Marketing, the location of the complex makes it a great investment or redevelopment property.
"As a fully functional entertainment complex, this Eagle Beach location is a prime spot to capitalize on multiple resorts in the immediate surroundings," says Gilmore. "Furthermore, the site is ideal for a potential redevelopment opportunity."
The 36-hole Adventure Golf course is made up of Alfredo's Restorante, the Black Hog Saloon, and a gift shop, while Aruba Grand National is comprised of the go kart track, 10 batting cages, and a game room and arcade.
Both properties are situated on land parcels leased by the Aruba government. The Adventure Golf site 60-year lease began January 1993 and expires in 2053, while the Aruba Grand National speedway sits on two land leases which began February 2001 and expire 2061.
About Sperry Van Ness:
Sperry Van Ness is the only National and International Commercial/Investment Brokerage Firm with a dedicated team of veteran auction executives able to service the needs of nearly 1000 advisors and their clients in 160 cities. The Sperry Van Ness Accelerated Marketing Team members have planned orchestrated and conducted successful auctions and sealed bid initiatives throughout the United States, Mexico, Puerto Rico and the Virgin Islands.
For more information, please visit http://www.svnauctions.com.
Media contact:
The media contact:
David E. Gilmore, CCIM, CAI, AARE
800-254-1280
david.gilmore(at)svn.com
###