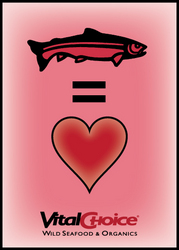 I'm a big fan of fish oil. I take two tablets every morning because there are so many health benefits. So I was delighted when I learned that animal and human studies show that fish oil raises dopamine levels in the brain. … Dopamine can stimulate the release of testosterone, your hormone of sexual desire …
Bellingham, WA (PRWEB) February 5, 2009
Has the long, cold winter got your lover's libido down? Have the day-long demands of work or parenthood put the damper on an evening of romance? This Valentine's Day, consider a serving of wild Alaskan salmon to help fan the flames of passion.
What does wild salmon have to do with romance? According to some studies, foods high in omega-3s help fuel women's amorous feelings.
The specific omega-3 fat in question -- called DHA -- abounds only in fish oil and in luscious, fatty fish such as wild Alaskan salmon, mackerel, sardines, tuna and sablefish.
Fish as a love potion?
Former Alaska fisherman Randy Hartnell, president and co-founder of Vital Choice Wild Seafood & Organics was intrigued to learn that salmon may be an unsung aid to amorous outcomes on Valentine's Day…or any other.
"Perhaps the abundance of omega-3s helps explain why wild salmon struggle so hard to swim thousands of miles upstream for even a brief moment of romance," Hartnell said. "If our seafood or fish oil puts some passion in people's lives on this light-hearted day meant for lovers, we'll feel we're doing our part."
As an incentive for romantics hoping to up their romance quotient for Valentine's Day, Vital Choice is running two special offers Feb. 5-11, 2009. Customers who spend $125 or more will receive four 6-ounce portions of succulent, skinless/boneless wild Sockeye salmon -- rich in omega-3s, vitamin D and sensual flavor -- and a sample pack of its organic salmon marinade herb blend, at no extra charge (promo code: LOVEFISH1 -- order must include at least $60 worth of other frozen items to help keep shipment frozen solid).
Or, customers who spend $50 or more will receive one complimentary 90-capsule bottle of Vital Choice wild Alaskan Sockeye salmon oil (promo code: LOVEFISH2). This unique supplement provides the full complement of omega-3s, vitamin D, antioxidants and nutrients natural to wild salmon.
Share your romantic thoughts on Facebook
In celebration of how its wild seafood can spark a bit of romance this Valentine's Day, Vital Choice is also encouraging people to post the most romantic thing anyone has ever said to them on Vital Choice's Facebook page.
"We're not saying that serving your lover wild salmon for Valentine's Day dinner will guarantee an evening of unbridled passion, or that your lover will want a bottle of fish oil supplements rather than chocolate and red roses," Hartnell added. "But the omega-3 fats abundant in salmon and other fatty fish seem to encourage and support amorous encounters."
"Though it hasn't been clinically proven, more and more research and anecdotal evidence suggests omega-3s can for women raise their levels of dopamine and serotonin, which rank among the brain's main pathways to desire and passion," said Hartnell.
Female Authors Suggest Salmon's Sexual Stimulating Effects
Sex educator and author Dr. Yvonne Kristín Fulbright touted the benefits of omega-3 fish oil in an article titled "Can You Eat Your Way to Better Sex?" (Fulbright YK 2005):
"I'm a big fan of fish oil. I take two tablets every morning because there are so many health benefits. So I was delighted when I learned that animal and human studies show that fish oil raises dopamine levels in the brain. … Dopamine can stimulate the release of testosterone, your hormone of sexual desire …"
Last year, environmental consultant Marrena Lindberg highly recommended fish oil in her book The Orgasmic Diet, which presented a diet and exercise plan designed for "… the millions of women unable to reach orgasm, or for those who want to improve their sex lives."
The Orgasmic Diet offered four main prescriptions for lifting women's libidos and enhancing their experience of sex, led by consuming ample amounts of fish oil.
About Vital Choice Wild Seafood & Organics
Vital Choice is a to-your-door provider of premium wild Alaskan salmon and salmon oil, wild seafood, and carefully selected certified organic and kosher berries, dark chocolates, oils, nuts, dried fruits, and seasonings.
Before founding Vital Choice in 2001, Northwest Washington native Randy Hartnell spent more than 20 years as a commercial fisherman in Alaska.
Today, he is an active advocate for wild fisheries and ecological sustainability, and Vital Choice is a trusted source for convenient home delivery of the world's finest wild Alaskan seafood and organic fare.
All Vital Choice foods are among the purest available and guaranteed sustainably harvested from healthy, well-managed wild fisheries and organic farms.
The company's products are recognized for their superior taste and health benefits, and are endorsed by leading health and wellness experts, including physicians specializing in nutrition, pediatrics, and integrative health care.
# # #