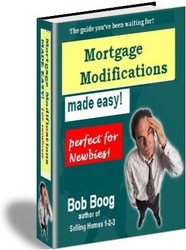 People might laugh about sending a note of appreciation to a banker, but it's a time-tested technique that does work
Los Angeles, CA (PRWEB) February 7, 2009
Homeowners looking to save money by modifying their home mortgage will often turn to a lawyer or a loan modification company to deal with their situation, but not all homeowners have been satisfied with these results. In his new book, Mortgage Modifications Made Easy, veteran real estate broker and author Bob Boog (Selling Homes 1-2-3 and Real Estate Sales from Hell) offers an instructional self-help guide for homeowners interested in doing it themselves.
Boog claims that he wrote the book because a gap of knowledge exists in this subject area. "I' once referred a client to a mortgage modification company because then I wouldn't have to deal with it. However, my client called to tell me that the modification fee charged by the lawyer would be several thousand dollars which would be added to her existing loan balance and then capitalized over a 40 year term, along with the rest of her late payments. She implied that part of reason the modification fee cost so much was that I would be paid a referral fee of $1,000. She wanted to do it herself but didn't know how and asked me if I would help her and be paid a flat fee of $500. So I did it. Now when people ask me to modify their loan I refer them to my website. Because modifying a loan is not like rocket science. It's usually a time-consuming job but most people can do a loan modification themselves quickly and easily once they understand how the process works." Boog claims that if an owner is unhappy with the lender's response to make a counter proposal. And if there are any questions about the final terms of the modification, the owner should then contact a lawyer or mortgage modification specialist. "Obviously this is general advice that is most appropriate for the average person who can document their income with tax returns, bank statements and paystubs, but may not be applicable for somebody who files a 62 page tax return."
Along with a 52 page instructional guide that offers time-saving tips and money-saving suggestions, readers can download all the necessary forms and checklists as well as a Resource Guide that outlines various mortgage modification options, guidelines, scams and cautionary tales. The cost is a modest $29.95 which is about ten times less than what most loan modification companies charge.
Boog's website http://www.short-sales1-2-3.com carries other loss mitigation products including two books on short sales (one in English and one in Spanish co-written with his wife, Roxana). The website also offers greeting cards for sale. "People might laugh about sending a note of appreciation to a banker, but it's a time-tested technique that does work," he said.
About Bob Boog
Bob Boog started selling real estate in 1978. He and his wife Roxana own a small real estate company (Bob Boog Realty) located approximately one hour north of downtown Los Angeles.
Mr. Boog is a graduate of UCLA with a BA in English. He has taken continuing education classes in listing and selling bank-owned properties ("Learning the REO Ropes" and "Advanced Valuations") as well as surviving the highly competitive Los Angeles area real estate market for the last 30 years.
http://www.short-sales.com
Boog, Robert
Mortgage Modifications Made Easy Ebook
52pp
Mortgage Modifications Made Easy Resource Guide
54pp
Mortgage Modification Forms
18pp
For further information please contact:
Robert Boog, Author
Bob Boog Realty
23916 Lyons Avenue
Newhall, CA. 91321
Tel/661-259-9723Fax: -661-259-9725
###