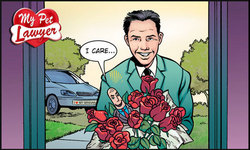 I'm Just a Love Machine!
Los Angeles, CA (PRWEB) February 9, 2009
There's an old Spanish proverb that goes "A man in love schemes more than a hundred lawyers." This Valentine's Day, when Americans seem less in love with spending and are scheming more like accountants, a Southern California toy manufacturer believes that a hundred lawyers may be ninety-nine more than anyone needs to plead their case of infinite affection this February 14th.
According to Billable Hours Unlimited, Ltd., "My Pet Lawyer", a talking electronic pit bull-shark mix can do it all better than chocolates because he'll stay with you, but not on your hips and thighs. And when was the last time a bouquet sang to you? "My Pet Lawyer" is compact enough to be affectionately hidden within a dozen long-stemmed roses, his spiked collar fitting in comfortably, yet painlessly among the sharpest of thorns. One click of a remote and with the assistance of this lawyer, a bouquet of flowers will say or sing whatever you desire. Buy "My Pet Lawyer" a la carte and let him do the laughing, growling, talking and singing....solo or in a choir of attorneys! And, of course, there's always the impish irony of sliding the little guy into a gift basket of well-groomed chocolates for the "arm candy lawyer" in your life. Whether a person sends "My Pet Lawyer" a la carte or in a bouquet, he's ready to record anything they say or sing - from Jackson Browne's "Lawyer's in Love" to "I'm Just a Love Machine!"
"My Pet Lawyer" is like a personal Cyrano de Bergerac, delivering a person's heartfelt sentiments and if they're too tongue-tied to give their own recorded deposition of undying love, have no fear because he's preprogrammed to smooth talk his way into anyone's sexy legal briefs with nine prerecorded messages like "Come here often?" and "I care! Hahahahaha!" Hurt and injured by love's arrow this Valentine's Day - let "My Pet Lawyer" sue Cupid for you!
"My Pet Lawyer" is available at http://www.mypetlawyer.com and in selected stores and gift catalogs. This love puppy has been featured as "Cool Executive Toy" on CNBC's popular "Power Lunch" show, profiled in "Best Gifts to Give a Mogul-in-the-Making" in New York's "Gotham" magazine and chosen for January's Special Inauguration Edition of "Where Washington" magazine as "Editor's Pick" and "Tip of the Month!" Even the American Bar Association (the "ABA Journal") thought he was a love poem in motion when they called him a "must have toy" for the lawyer who has everything! And if you find yourself in competition this Valentine's Day for the love of your life, "California Lawyer" magazine says "My Pet Lawyer" is a great way to "scare opposing counsel."
Keep yourself, a co-worker or even a worst best friend out of St. Valentine's doghouse by thinking outside the jury box for a gift this year. "My Pet Lawyer" sounds like the perfect possibility to hit Cupid's mark and stick around long after he's hit the road.
Five percent of the net profits from sales made directly through the http://www.mypetlawyer.com website will be donated to Voice for the Animals and used for the rescue and adoption of homeless pets.
FOR MORE INFORMATION, PLEASE CONTACT:
Kim Jakwerth, Marleah Leslie & Associates
(323) 464-9669, kim(at)marleahleslie.com
###