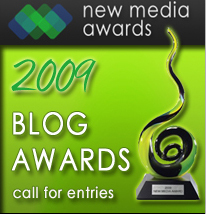 We are terribly excited about this competition. We have so many fantastic entries that the judges can't wait to get started in the review process. In fact, the rate of submissions is increasing steadily and we expect to receive more than double the amount of entries in this last week
New York , NY (PRWEB) February 6, 2009
Today, the New Media Institute (http://www.newmedia.org ) announced that there is only one week left for submitting blogs into the 2009 Blog Awards. The deadline for blog entries is Friday, February 13.
"We are terribly excited about this competition. We have so many fantastic entries that the judges can't wait to get started in the review process. In fact, the rate of submissions is increasing steadily and we expect to receive more than double the amount of entries in this last week," explained John Spagnuolo, president of the New Media Institute.
The 2009 Blog Awards is the first of four competitions to take place in the 2009 New Media Awards held by the New Media Institute Inc., followed by the Web Awards, Digital Advertising Awards and the Web & Mobile Video Awards.
Barbara Eber-Schmid explained, " The New Media Institute wanted to recognize the importance that blogs play in global communications. Blogs add a new and often creative dimension beyond the traditional dissemination of facts and news."
Spagnuolo was surprised with the range and depth of the blog nominations. So far, nominations have included blogs in the areas of entertainment, style, finance, law, advocacy, and political to name but a few. New Media Institute wants to encourage the proliferation of quality blogs with this first major blog competition. Winners will receive equally creative art glass awards that represent innovation and creativity.
About NMI:
The New Media Institute (NMI) (http://www.newmedia.org) is a research and fact finding organization whose mission is to improve public understanding of issues surrounding the Internet and celebrate excellence in new media communications.
For more information, contact Barbara Eber-Schmid at 917 686-1077
###