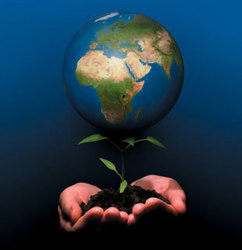 (PRWEB) February 13, 2009
The inaugural Green Planet Awards were launched on Sunday 1st February at the Conway Institute in UCD, Dublin with students Niamh McNally, Sinead McDonnell, Joey McAleer, Rachael Brennan and Edel Burke, and the Reva electric car, which is the main prize on offer for the winning Green Planet Awards campaigners.
The Green Planet Awards are a brand new third level initiative, which encourages students in colleges across Ireland to consider how human actions impact on the environment. Students are invited to put their research and creative skills to the test by building awareness campaigns in their local communities, both on and off campus, to highlight environmental issues. The 2009 Green Planet Awards challenge is Eco-Eating - raising awareness of how the food we eat affects the planet.
Students will record their campaign efforts and submit them for consideration by May 1st. The winning Green Planet Awards 2009 campaign team will receive a Reva electric car, worth approx. €13,000. Runner up campaigns will be awarded €3,000 in cash prizes.
In addition, a €1,500 cash prize will be awarded to the most active member of the social networking section on the http://www.GreenPlanetAwards.org website, which will be hosted at http://www.Green2Cool.org . This part of The Green Planet Awards 2009 will be open to students worldwide. The judging panel will include experts on climate change, the environment, marketing and public relations. The winner of the Green2Cool part of the competition will be announced in late July 2009.
For further information and entry details, students should log onto http://www.GreenPlanetAwards.org . The Green Planet Awards will be held annually in 3rd level colleges.
For further information on The Green Planet Awards please contact Emma Harney at Entertainment Architects on +353 1 2606998
The Green Planet Awards is a non - profit eco initiative funded by a number of Irish individuals, who were inspired to action by eco-TV channel, Supreme Master TV (Sky 835) http://www.SupremeMasterTV.com . Materials relating to The Green Planet Awards are taken from sources including the United Nations Intergovernmental Panel on Climate Change, NASA's Climate Research Department, and recent research papers released by scientists across the globe, ranging from climate scientists to medical professors and medical research scientists.
###