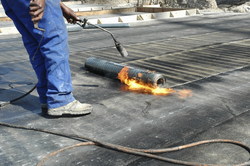 Flat roofs have a reputation for causing problems, especially damp
(Vocus) February 6, 2009
Loads of insurers don't like flat roofs, but Adrian Flux Insurance Services loves non-standard risks and has a range of schemes to insure every kind of roof, whatever the shape.
"Flat roofs have a reputation for causing problems, especially damp," says Julie Carter of Flux's household division. "That's the main reason why some insurers won't even consider them. However, provided the roof meets certain criteria, we have schemes that will deliver great coverage at very competitive rates."
Even if a flat roof extends over as much as 30% of the property, Flux can offer insurance with no extra loading on the premium. Flux can also insure properties with flat roofs covering a greater extent, but there is likely to be an extra loading on the premium, and the excess could be larger.
A key factor is what the flat roof is made of. Concrete roofs normally present no problem, but those made of more unusual materials, such as plastic, corrugated iron or fibreglass, may be more difficult to insure.
Felt flat roofs are quite common and, provided they are well maintained, insurance should not be an issue, even if the roof covers up to half of the property.
"Another issue is blocks of flats with felt roofs," says Julie Carter. "So long as you're not in the top floor flat, most insurers should be sympathetic. If you are on the top floor, specialists like Flux can still help, though we'll need to investigate the roof's construction and standard of maintenance.
"In most cases, as long as it's well maintained and inspected every few years, flat roof insurance shouldn't cause a problem."
Adrian Flux aims to offer cheaper home insurance and has a range of policies for homes, contents, landlords and buy to let, including specialist schemes for hard to insure properties such as thatched homes, underpinned buildings and those at risk of flooding. For information call the Flux household insurance hotline on 08700 772266, email household@adrianflux.co.uk or visit the website, http://www.adrianflux.co.uk, and click on the relevant button under the 'Home Insurance' section.
Flat roof insurance.doc - Feb-09
Press Enquiries:
TONI TURNER OR ALISON HAYNES AT THE PUBLICITY WORKS: (01263) 761000; Email: flux(at)publicityworks.biz
JULIE CARTER AT ADRIAN FLUX INSURANCE SERVICES: (08700) 772266
SEPARATIONS CHARGES: Offers can only be dealt with by fax (01263 761009) or email (seps(at)publicityworks.biz). All offers are considered and we will contact you if the answer is 'Yes'. Otherwise the answer is, regrettably, 'No'.
###