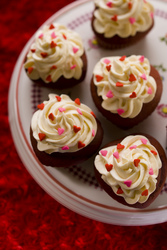 New York, NY (PRWEB) February 9, 2009
Does your valentine love chocolate and have a soft spot for cupcakes? Bake your sweetheart a health conscious and seductive version of a traditional favorite - Red Velvet Valentine Cupcakes.
This recipe uses the red-hot new sweetener, Stevia Extract In The Raw™ to cut in half the amount of sugar used for the cake and uses reduced-fat cream cheese to make the icing. The result is a rich, delicious Valentine's Day treat - so heat up the oven and spread the love!
Red Velvet Valentine Cupcakes
Cupcakes
1/3 cup unsweetened cocoa
3 tablespoons red food color
1 1/2 teaspoons vanilla extract
1/2 cup (1 stick) unsalted butter, softened
3/4 cup Sugar In The Raw®
4 egg yolks
3 egg whites
1 cup low fat buttermilk
1/2 teaspoon salt
15 packets Stevia Extract In the Raw™
2 1/4 cups sifted cake flour
1 teaspoon baking powder
¼ teaspoon cayenne pepper (optional)
1 1/2 teaspoons baking soda
1 1/2 teaspoons white vinegar
2 1/4 cups Cream Cheese Frosting (see recipe below)
Preheat oven to 350oF
In small bowl combine cocoa, red food color and vanilla, set aside.
In large bowl beat together butter and Sugar In The Raw. Add yolks one at a time and beat well after each addition. Add cocoa mixture and blend well.
In another bowl, beat egg whites until stiff peaks form, set aside. Combine buttermilk with salt. Combine Stevia Extract In The Raw, cayenne pepper and baking powder with cake flour.
Add buttermilk mixture and flour mixture to cocoa mixture, alternating a third at a time beating after each addition. Combine baking soda and vinegar then add to batter and blend well. Fold in egg whites.
Fill each heart shape silicone baking cup 2/3 full with batter. Arrange cups on 2 baking sheets lined with parchment paper and bake 13-15 minutes or until a toothpick comes out clean.
Remove from oven and let cool 5-10 minutes before removing from baking cup.
Cool cupcakes on rack before frosting.
Makes 24 cupcakes.
Note: If heart shape silicone cups are not available, muffin pans can be used.
PER SERVING
120 calories, 45 calories from fat, 5g fat, 3g saturated fat, 0g trans fat,
2g protein, 16g carbohydrate, 1g dietary fiber, 170mg sodium, 45mg cholesterol.
Cream Cheese Frosting
2 (8 ounce) packages reduced fat cream cheese, softened
1/2 cup (1 stick) unsalted butter, softened
1 teaspoon vanilla extract
10 packets Stevia Extract In The Raw
1/4 cup 1% low fat milk
In a medium bowl combine all ingredients and blend well. Makes enough frosting for 36 cupcakes.
PER SERVING (1 1/2 Tablespoons)
64 calories, 44 calories from fat, 6g fat, 3.6g saturated fat, 0g trans fat, 2g protein, 1g carbohydrate, 0g dietary fiber, 48mg sodium, 16mg cholesterol.
For more tasty recipes sweetened with Stevia Extract In The Raw, or to learn more about cooking with stevia, check out http://www.steviaintheraw.com
###