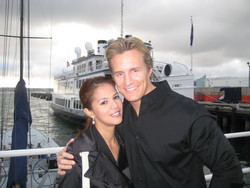 Nearly all doctors of chiropractic must constantly be in what we call, 'new-patient mode,'
San Diego, California (PRWEB) February 23, 2009
Rob Walcher, D.C., internet Marketing Guru has, over the past year or more, been downsizing his local chiropractic practice. Not because of a lack of patients, nor because of his own lack of interest. But because he no longer needs to remain in "new-patient mode" to build his practice.
Due to the amazing success of his Internet direct sales business, Dr. Walcher can now focus his attention on a core group of patients for the sheer joy of doing what he loves -- helping people through chiropractic.
"Nearly all doctors of chiropractic must constantly be in what we call, 'new-patient mode,'" Walcher explains. "And that can be extremely stressful." He adds, "It's either that or the practice will slowly die." Now those struggles for this doctor are over.
Three years ago, Dr. Walcher discovered online direct sales. He immediately fell in love with the industry and quickly soared to one of the top earner's in the company. In fact, within nine months his earnings were above 100k. "I loved the concepts of the industry, I loved the people, I loved the products, and of course I loved the income," Walcher explained. "However, I discovered that I couldn't replicate what I was doing."
Without a system of replication, Dr. Walcher discovered he could maintain his income level, but others could not. This sense of dissatisfaction was multiplied as he saw a few high-pressure tactics being implemented within the company. His idea of the perfect business would have to have a system in place that anyone and everyone could implement -- and with no high-pressure, arm-twisting marketing ploys! Add to that the fact that the work involved had become like a second job. His goal was time-freedom, not two jobs.
In spite of the fact that he'd built up a team and in spite of the fact that he'd earned 100k in nine short months, he made the difficult decision to walk away!
It was the right decision. Within three months, Dr. Walcher discovered CarbonCopyPro and has never looked back. He quickly reached and exceeded his previous income level. And has achieved the time-freedom he had been seeking.
"Within the structure of CarbonCopyPro," Dr. Walcher states, "is a system easy enough for even the most basic Internet Marketing beginner can handle."
Being able to train and help those on his team is what appeals most to Dr. Walcher. While he's pleased to be able to enjoy his chiropractic practice, free of the stress of building clientele, he also wants to share with others his new-found freedom.
One of Dr. Walcher's team members, Linda Kick attests to his leadership skills. "As a Success Mentor, Dr. Rob has led me through some financial as well as some physical challenges. As a result, I had the courage to pick up and move my family to the place of our dreams in the Florida Keys." Linda goes on to say, "Thanks to Rob, I now live the Be, Do, Have principle and life is amazing!"
While Dr. Walcher acknowledges that any professional can and will "plateau" in their line of work (as he did in his chiropractic practice), but one can never "plateau" in the direct sales industry as he has experienced with CarbonCopyPro. The sky truly is the limit.
For additional information on Dr. Walcher's Internet Business Click Here.
Rob Walcher
http://www.10figureguru.com
# # #