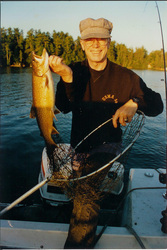 "Dr. Lyon's books and DVDs are the definitive guides to the challenge of fishing glacial lakes -- must haves for every serious angler!"
Laconia, NH (PRWEB) February 9, 2009
Deep Waters Press is proud to release a 2nd DVD in the unique Love Affair with Angling series by Drs. Vincent Giuliano and Harold Lyon. Disc 2, with a full hour and 48 minutes of fascinating fishing lore, and practical tips, features ice fishing with renown NH guide, Adrien Lavoie, streamer fly tying and fishing by some of the best fly tying artists in the U.S. including Jim Warner, Mike Martinek, Chuck French, and Alan Nute. passing it on to future generations, and the culinary art of preparing and cooking fresh water fish.
The DVD series is a companion to Dr. Lyon's book, Angling in the Smile of the Great Spirit, which was named in 2008 at the annual meeting of the New England Outdoor Writers Association (NEOWA), the oldest outdoor writers association in America, as the winner of the "Best Book of the Year Award." The new DVD was produced and directed by Dr. Vincent Giuliano, who is the popular, humorous "Grump Master" featured in the first DVD in the series. This new DVD has been hailed as "the most definitive ice fishing DVD ever produced."
In these unique books and DVDs Dr. Lyon and the other 14 Master Anglers share 600 cumulative years of learnings and yearnings about the Lake and the often-evasive fish in it. The best-selling, Angling in the Smile of the Great Spirit, a "must have" for every angler, reveals the secrets and tips from 15 Master Anglers on best lures, depths, speeds, and techniques for angling as well as the philosophy which drives anglers.
Angling in the Smile of the Great Spirit and its DVD series, "A Love Affair with Angling," have taken off across the Lakes Region of New Hampshire and spread to other regions of America to become the definitive guides to northern glacial lake fishing. The first 5000 soft cover copies of the book sold out fast during the first year of publication and was reprinted as a revised quality paperback as well as a numbered limited collectors' edition hardback. In 2007 a popular and unique DVD, the first disk in a series, was released by Deep Waters Press which introduces rare interviews with the colorful 15 Master Anglers sharing their rich stories, lore, tips, secrets, and history. Three of them have died since the project began, but both the book and DVDs capture their histories, humor, and spirit. Talented angling musicians composed original music scores for the DVDs.
Dr. Vincent Giuliano, who was director and executive producer of the new DVD, is a divergent thinker: the first Ph.D. from Harvard in computer science, university professor and dean, author of over 150 papers and books, artist, pioneer of key developments in the electronic revolution, listed in "Who's Who in the World." He's been working in visual media all his life and has now turned his creativity to the artistic creation of this unique angling DVD series.
Dr. Lyon, who co-produced the DVDs, is a former director of education for gifted children, project officer for "Sesame Street", assistant to the president of a university, faculties of Georgetown University, Antioch, Dartmouth Medical School, Notre Dame College, and Universities of Massachusetts and Munich, where he is now a guest professor for several months a year, teaching physicians how to be more effective teachers. He received the Gold Medal in the 32nd International Film & TV Festival of New York, and a CINDY Award. He's a West Point graduate and former Ranger Paratrooper Army Officer, has served in high positions in government and in the academic world. He's the author of 6 books and hundreds of articles. He is a popular speaker around New England and in Europe including having been selected for the Humanities Council "Humanities on the Go" speaker program.
Published Praise for Angling in the Smile of the Great Spirit and The Love Affair with Angling DVD series:
"The stories and insights from Master Anglers and others make this DVD entertaining, informing, and rewarding to watch. Watching this DVD is an easy, fun way to learn the complexities of ice fishing! It's all here from A to Z plus valuable information on fly tying, lake trolling, conservation and other great angling tips." -- Randy Mithoefer - Angler, and Director, Merrimack River Valley Chapter-Trout Unlimited.
"Part angling memoir, part history - the kind of book you can dip into at a moment's notice, or read straight through as you would a …novel. …You'll enjoy the warm positive tone registered by author Lyon's insights. It'll make you want to fish. It'll shape your view point in ways you didn't expect. Something for everyone…Scientific angling information for those who want that. Hilarious anecdotal material you'd only get by knowing these people firsthand. It's the perfect book to be sitting on your lakefront coffee table….It's there when you want a dose of insights into New England glacial water. It captures in words -- and with great feeling -- what the big lake has to offer." -- Steve Hickoff - Outdoor Columist and Writer
"To his credit, author Lyon has invested a lot of humanity in his book. The profiles of anglers will touch your heart and remind us all of one of the reasons we fish: to share solitude with people we care about. The book never lets you forget that the Lake Winnipesaukee Legend is built upon the life and times of people who loved to fish. As Lyon says "Life is not about fishing. Fishing is about life." One of the Master Anglers is a 94- year- old angler named Barbara Cotton who operates a tackle store near the lake. She is the oldest Orvis dealer in the country. In his epilogue, Lyon lets it all hang out and faces head on the question that dogs him thoughout the book, "Why do I fish?" He draws a distinction between the angler and the fisherman. And his prose here really does rise to the "level of literature," as they say. He writes: "Some measure of respect, and even of spiritual reverence, is required to become an angler as opposed to being a fisherman. If we treat the spirituality of angling lovingly, and with a certain tenderness, it will not be lost on us. Then, in a wonderful fish story, he recounts his angling epiphany: the moment when he made the transition from fisherman to angler. I won't spoil it for you. You'll share the moment with him when you read "Angling in the Smile of the Great Spirit." -- V. Paul Reynolds - Editor, Northwoods Sporting Journal, Maine Guide, and host of weekly radio show, "Maine Outdoors."
"THE bible for big lake fishing in the North East. …A must have for every serious angler's library!" -- Ron Comtois - New England fishing guide
The award winning books and DVD are available online at http://www.deepwaterspress.com and at local independent book stores. Book sellers and libraries can order the award winning collector's hardback edition (list $39.95), the revised quality paperback edition (list $24.95) and the DVD (list $24.95) by FAXing or by phoning Deep Waters Press: FAX: (603) 524-2339; Phone: (603) 524-2585.
A Love Affair With Angling Disc 2- The Love Deepens
Deep Waters Press • 77 Court St.• Laconia, NH 03246 • Phone: (603) 524-2585 • FAX: (603) 825-0399 • http://www.deepwaterspress.com
# # #