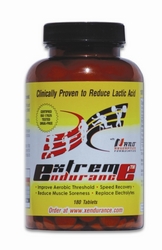 Bernard was the 100 meter world record holder and had about 0.8 of a second head start on Jason - but the last 10 or 15 meters, Bernard tightened up. Lactic acid buildup got him
Scottsdale, AZ (PRWEB) February 9, 2009
After seeing the claims of Extreme Endurance, a new sports nutritional supplement on the market, nutritionist Lori Anonsen, MS, RD, ACSM, thought the product sounded too good to be true. So late last year, Lori investigated the phenomenal claims of Extreme Endurance. What she found out made her a believer in the product.
According to Lori, an extreme endurance athlete recently asked her, "How good can I get?" What a great question, she thought, and after several days of research, found some fascinating new sports nutrition information along with an abstract on a new sports supplement called Extreme Endurance. The abstract covered a double-blind, randomized, crossover study of 22 elite athletes. Being an ex-triathlete and current weekend aerobic warrior herself, she found the abstract very interesting and began a full investigation of the product.
Extreme Endurance claims to influence and reduce lactic acid concentration, which in turn improves maximum exercise performance and reduces muscle soreness. These are bold claims, so Lori looked at their website, http://www.xendurance.com. The site provided sound information, and cited a clinical study. In addition, there are plans to repeat the study on a variety of athletes from different sports.
The ingredients in Extreme Endurance are fairly basic: acid buffers like Magnesium and Potassium, Antioxidants, Trace Minerals and Protease Enzyme Papain. It is important to note the buffers used in the product, as well as Protease Enzyme Papain, which stimulates anti-inflammatory agents leading to less muscle pain and soreness are obviously of important benefit to extreme endurance athletes.
Powerful buffers, like Magnesium Hydroxide, often cause diarrhea when released and absorbed through the stomach lining. Extreme Endurance, however, is released in the small intestine to avoid gastrointestinal problems such as stomach upset, diarrhea, and interference with a healthy acidic environment needed in the stomach.
Since Extreme Endurance is a new product, Lori contacted a lead proponent of the product, Jürgen Sessner. Jürgen is the head trainer and coach for several professional triathletes in Europe who competed in the Ironman race in Wisconsin this past September. Jürgen participated in the double-blind clinical trial on Extreme Endurance with his triathletes, and told Lori he knew which athletes were receiving the active product after the "very first test" in the 10 day trial.
Triathletes in the first group used a substance in a brown bottle. After Jürgen tested two triathletes in the first group, he knew the contents of the brown bottle was the active substance (i.e. Extreme Endurance) and not the placebo. No one officially knew who had Extreme Endurance or the placebo until the final testing was completed 35 days later; but Jürgen knew because his triathletes had never tested so high in their lactate threshold.
Lactate threshold is a term used to describe an exercise level at which more lactate is being produced than cleared. The first group of 11 athletes, who all took Extreme Endurance, finished the 10 day test with an increase in aerobic threshold of 84%. The test also showed a reduction of lactate by 18%. By the time the crossover study was completed with all 22 athletes, the numbers changed to an increase of aerobic threshold by 41% and lactate reduction by 15%. Aerobic threshold increase is very important in athletic performance. It will allow athletes to use fat vs. carbohydrates as a major source of fuel, and therefore perform at a higher level of intensity for a longer period of time.
Jürgen said all 22 athletes wanted to continue using Extreme Endurance because all saw an improvement in their training. An athlete produces lactic acid during high intensity exercise. The lactic acid that is formed dissociates into lactate and hydrogen ions. Lactate can be used as a fuel source for the heart and other muscles during intense exercise. However, when the accumulation of hydrogen ions (H+) exceeds the buffering capacity of the muscle and blood, fatigue sets in. An acidic pH not only leads to fatigue, but can also cause muscle tightness and that burning feeling often felt during intense exercise. Extreme Endurance's ingredients help buffer the production of H+, and thus can increase an athlete's lactate threshold or ability to work much harder for a longer period of time.
Articles have been written about an acidic blood pH and lowered bone density in cyclists who ride over 100 miles a week, and in light weight rowers. An acidic blood pH needs to be buffered, and one of the body's ways to handle this is by using calcium stored in the body. In 1996, a study of six Tour de France riders showed bone density losses of up to 17% over the course of the race. An important side benefit of Extreme Endurance may be as an acid buffer to help neutralize calcium loss, and preserve a healthy bone density.
After analyzing all this information, Lori e-mailed http://www.xendurance.com and asked them for product user references. They gave her the name of Coach Rick Stassi, a strength and conditioning coach from Irvine, CA. Rick's resume is impressive; coaching 13 #1 draft picks, 60 college All-Americans and a world-class swimmer, Jason Lezak. Rick started Jason on Extreme Endurance just before the swimming trials last June. During the third day in Beijing, the 4X100 free style race was held. A major television network said 81 million people watched Jason Lezak catch France's Alain Bernard. Rick said, "Bernard was the 100 meter world record holder and had about 0.8 of a second head start on Jason - but the last 10 or 15 meters, Bernard tightened up. Lactic acid buildup got him"!
Jason smoked Bernard with the fastest 100 meter freestyle in history - 46.06. A sports announcer called it one of the miracles of the Games. Rick said, "This was Jason's third time at the games. I have trained Jason for 8 years and at the age of 32, he won his first individual Medal, 2 relay Gold Medals and swam better and faster - Extreme Endurance was his game changer!"
After completing her investigation of Extreme Endurance, Lori concluded if you are interested in improved athletic performance, with less muscle burn and soreness, then Extreme Endurance may be the game changer you've been searching for.
References:
Roy M. Wallack
Achey - Breaky Biker Bones
Southern California Bicyclist Magazine
http://www.bikerforlifebook.com
Nancy Clark, MS, RD.
Food for Thought
Rowing News, September 2008
Vol. 15, No. 7, 74-76
Jürgen Sessner Extreme Endurance Clinical Test Protocol
Testing Facility: Corpus Diagnostik, Hilpoltstein, Germany
Dr. Volker Tzscheetzsch and Juergen Sessner
Extreme Endurance is a tradename of LifeSpan International US, LLC.
###