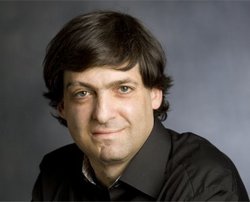 We need to create a kind of technology for building reputation which helps people determine who it is they are dealing with
San Francisco (PRWEB) February 9, 2009
Dan Ariely, leading behavior economist and author of the best-selling book, Predictably Irrational: The Hidden Forces That Shape Our Decisions, says that new Web technologies can alter the way individuals conduct financial transactions such as mortgages and business loans with the use of remote cameras bypassing traditional financial systems.
A video interview with Ariely about game-changing technology for financial intermediation is featured on IdeasProject, a unique website developed by Nokia. IdeasProject is an online space that provides a new way to interact with thought leaders and their big ideas about the future of connected communications. For more on Ariely's idea, visit http://www.ideasproject.com.
"We need to create a kind of technology for building reputation which helps people determine who it is they are dealing with," said Ariely. "We also need to build a confidence building mechanism, such as webcams, giving us the ability to remotely see what is going on and evaluate these types of transactions."
IdeasProject.com, a Nokia project, aims to create an information ecosystem of the most important ideas defining the direction of technology. "We're excited by Ariely's most recent big thinker contribution, which centers on the establishment of a mechanism to ensure trust and legal guarantees to empower individuals in their financial transactions," said Valerie Buckingham, director of technology marketing, Nokia. "Ariely's contribution incorporates science and technology and promotes one of the IdeasProject's goals of helping us as a society arrive at new solutions and find better ways of doing things."
For the next three months, visitors to ideasproject.com have the opportunity to submit their own Big Idea. Editors will be regularly highlighting their favorite ideas, and sending a Nokia N95 to the Big Thinker who was selected. We'll also be featuring our favorite visitor-contributed Big Ideas along with the ideas of other ideasproject.com contributors.
About Dan Ariely
Dan Ariely is the James B. Duke Professor of Behavioral Economics at Duke University and visiting Professor at the MIT Media Lab. Ariely is considered to be one of the leading behavioral economists. As a Visiting Professor at the Duke University, Fuqua School of Business, Airely is teaching a course based upon his findings in his book, Predictably Irrational: The Hidden Forces That Shape Our Decisions. Ariely was an undergraduate at Tel Aviv University and received a Ph.D. and M.A. in cognitive psychology from the University of North Carolina at Chapel Hill, and a Ph.D. in business from Duke University. His research focuses on discovering and measuring how people make decisions.
About IdeasProject
IdeasProject, a project of Nokia hosted at http://www.ideasproject.com, brings together the most visionary and influential "big thinkers" to contemplate the big ideas that matter most to the future of communications. It is a new kind of conversation platform aimed at uncovering the connections between these thought leaders and their disruptive ideas. Explore the IdeasProject website, subscribe to its RSS feed, join its Twitter feed (ideasproject), and come back often to learn about great new big ideas as they break.
About Nokia
Nokia is the world leader in mobility, driving the transformation and growth of the converging Internet and communications industries. We make a wide range of mobile devices with services and software that enable people to experience music, navigation, video, television, imaging, games, business mobility and more. Developing and growing our offering of consumer Internet services, as well as our enterprise solutions and software, is a key area of focus. We also provide equipment, solutions and services for communications networks through Nokia Siemens Networks.
###