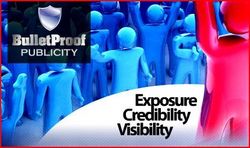 We all benefit when our clients are successful
Los Angeles, CA (PRWEB) February 12, 2009
Small business and entrepreneurs was a major topic of discussion between the presidential candidates during the 2008 campaign. Tax issues aside small businesses are still the driving force behind the US economy. They create 60 to 80 percent of all the net jobs in the country according to DR. Chad Moutray, chief economist for the office of advocacy.
One of the first priorities of any startup company is marketing. A company may have the magic solution for weight loss, but if doesn't get the public's attention, a potential multimillion-dollar product may never get off the ground. There are many precedents for this phenomenon, inadequate funding, an undefined business plan, and unforeseen marketing costs. For smaller start-up and even larger companies can fall flat due to inadequate marketing and lack of publicity. One of the more reliable print & design companies, Bulletproof Printing and Website Design, near Los Angeles, have developed a unique and very successful solution for its customers. Along with business related print and graphic design services, they will now offer local, regional, and national publicity campaigns.
Bulletproof Marketing campaigns will allow small and start-up companies to utilize the same tactics used by heavily funded corporations. This type of exposure has already put many businesses on the map. Some smaller companies have been happily overwhelmed with the response they have received by this type of marketing. When a company becomes part of the news people tend to give it more credibility than most type of advertisement they may have seen. This print company with an unusual, but interesting name has been working towards this type of business combination for several years. It seemed like a natural fit says Michael Yeomans, owner and founder of Bulletproof Printing.
"We all benefit when our clients are successful," he says. "With this economy, everyone is looking for some sort of advantage, but some of them are just trying to stay afloat". He might be right. Most businesses are seeing at least a 35% decline in profits in just the last six months. With the big three auto companies and major banking institutions all pushing congress for billions in U.S. tax payers' money, one might wonder who's next. The retailers could use some tax dollars, and how about those restaurants. The line could grow very long, and it could get worse before it gets better. All these gloomy economic predictions have put bulletproofprinting.com in a unique position. Every recession the amount of start up businesses increases. The common denominator with all these new startup companies is their need for print products, and an inexpensive way to draw attention to their new business. The folks over at Bulletproof Publicity seem to have the right combination at the right time.
###