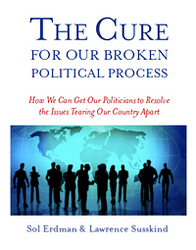 So, as long as our elections work as they do today, our lawmakers will undercut one another every chance they get. Our chronic problems will therefore continue to plague us
New York, NY (PRWEB) February 11, 2009
On the first major bill of President Obama's administration, the bitter divisiveness that he vowed to end has reasserted its grip on Washington, while the pundits debate who is at fault. Is it Obama? The Republicans? The Democrats?
"It's none of the above. The process by which we elect Congress is what's to blame. And until we fix that system, it will sabotage our political life, no matter who sits in the White House," says Sol Erdman, president of the Center for Collaborative Democracy and co-author of The Cure for Our Broken Political Process.
"Look at just one destructive feature of our elections," says Erdman. "In nearly every congressional race, one Republican and one Democrat vie for the seat. One party wins, while the other party loses. How, then, can we expect Republicans and Democrats in Congress to spend much time working together? That would be somewhat like expecting two prizefighters, while competing for a championship, to stop throwing punches -- and start waltzing."
"Sure, the two parties cooperate occasionally. But much like two boxers shaking hands, that gesture lasts but a moment and is usually for show. Each lawmaker knows that to win the next election he or she will have to knock the challenger from the other party out of contention. So, most lawmakers bash the opposing party at every opportunity."
In fact, over the last decade our lawmakers have relentlessly blamed one another for our nation's troubles, allowing those troubles to grow significantly worse. Yet 97 percent of lawmakers who've run for reelection have held onto their seats. Even this past November, of House incumbents who ran, 95 percent won again. Nearly every member of Congress has thereby seen first-hand that he or she can win election after election mainly by spotlighting the other party's failures.
"So, as long as our elections work as they do today, our lawmakers will undercut one another every chance they get. Our chronic problems will therefore continue to plague us," Erdman asserts. "We will be stuck with a debt-laden economy, soaring health care costs, reckless government spending, an abysmal educational system, and a destructive energy policy."
"There is no way around it: We need an election system that rewards our lawmakers for negotiating genuine solutions to our urgent problems," Erdman's new book spells out how to achieve that goal.
The core concept is simple: Instead of one Republican and one Democrat competing head-on to fill each district's one House seat, Erdman proposes that:

Today's congressional districts be merged into larger ones so that each district has several representatives, at least three.
To fill those seats, three or more liberal candidates would compete to represent the district's liberal voters, while at least three conservative candidates competed to represent the district's conservative voters, several moderates competed to represent the moderates, and so on.
Then, for a lawmaker to stay in office, he or she would have to convince his voters that he'd accomplished more of their agenda than would the two other candidates ideologically closest to him. And to report significant progress, a lawmaker would have to have negotiated creative deals with lawmakers from other camps.
In effect, each lawmaker would no longer have to defeat a challenger on the opposite end of the spectrum. He or she would therefore have no reason to bash lawmakers opposite him on the spectrum.
Are such dramatic reforms possible? The Cure for Our Broken Political Process lays out a step-by-step plan by which concerned citizens can bring about this kind of change, first in their town councils, then their state governments, and eventually at the federal level.
Is the Constitution an obstacle? Not at all. The Cure in fact proves that America's founders wanted lawmakers to have the kind of bond with constituents that these changes would create.
An ambitious agenda, nonetheless. "But," says Erdman, "if we don't fix our broken political system, our gravest problems will continue to haunt us. In these perilous times, we need ambitious reforms."
For further reading, please visit GenuineRepresentation.org or SolErdman.org.
Media Contact:
TJ Dietderich
Interactive Marketing Associate
Planned Television Arts, a division of Ruder Finn
1110 2nd Avenue
New York, NY 10022
212-593-6305
###