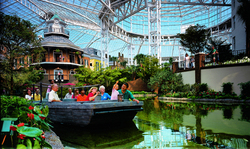 Nashville, Tenn. (Vocus) February 9, 2009
Break away and save for a Nashville spring break with a rare opportunity to stay at Gaylord Opryland Resort for $99*. Save in February and March of 2009 at the resort named for the 9th time by the readers of Southern Living Magazine as one of the top ten Best Hotels. And Gaylord Opryland is located in the city that more than 40,000 Southern Living readers named one of the top ten best cities, Nashville, Tenn., where live music and entertainment set the city apart from the nation and placed it in the top ten of "Best Weekend Getaways" from Southern Living readers as well.
Don't worry about the weather because it's always 72 degrees and sunny inside the tropical atriums with nine acres of lush gardens and sparkling waterfalls at Gaylord Opryland Resort. A breathtaking indoor swimming pool and luxurious Jacuzzi make spring break relaxing a treat.
Book now for only $99/night* for a Nashville spring break at Gaylord Opryland by calling 1-888-999-OPRY and refer to code 99NOW to save. Or book online to see additional offers from The General Jackson Showboat, Gaylord Springs Golf Links, Wildhorse Saloon and the Grand Ole Opry, visit http://www.gaylordhotels.com/gaylord-opryland/lp/99now.html. To see a video showing everything Gaylord Opryland and Nashville have to offer, visit http://www.gaylordoprylandsales.com/video/opryland-reel.wmv
And once inside the resort, there are more than 20 signature shops and restaurants offering a wide variety of options for entertainment, a spa, Vegas-style nightclub and music around every corner. Plus taking a colorful mini-cruise on a Delta Flatboat, located on the nation's largest indoor river is something most guests call a "must-do" activity.
Downtown Nashville is only a fifteen minute resort shuttle ride away from Gaylord Opryland. Downtown guests can find the , endless honky tonks and other attractions. Don't miss this rare opportunity to stay at Gaylord Opryland for $99 for spring break and save enough to plan some extra Nashville fun.
*Per room, plus tax, resort fee and parking. Limited number of rooms at this rate based on availability now through March 31, 2009. Not valid with other offers or for groups. Not retroactive. Restrictions apply.
Media relations contacts:
Kim Keelor
615-458-2877
Ann Dee McClane-Bunn
615-458-2896
###