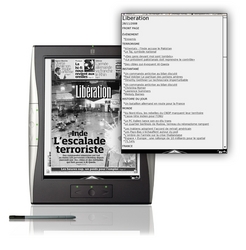 The demand for new device support, new applications and new distribution channels from newspaper, magazine and book publishers is unprecedented
New York, NY (PRWEB) February 10, 2009
NewspaperDirect Inc., the world leader in multi-channel newspaper and magazine content distribution and monetization, is showcasing its iPhone Reader Application and new iRex DR 1000 PressReader features at the O'Reilly Tools of Change for Publishing Conference being held in New York City, February 9-11, 2009.
PressDisplay.com's PressReader software was introduced two months ago for the iRex Digital Reader 1000 series, resulting in thousands of downloads of the application on one of today's hottest e-Readers. With only one PressReader software download, iRex DR1000 users can quickly and easily download hundreds of their favorite publications and read them at their leisure. This week, NewspaperDirect and PressDisplay will unveil its new PressReader features on the iRex DR1000, which will allow readers to view publications not only in a full image replica format, but now in an easy-to-read text view, with tables of contents listed and active link jumps.
Unlike the Kindle e-Reader which uses RSS feeds to populate the device with limited website content, PressDisplay's PressReader application delivers the full content of a printed edition to supported devices, giving readers more of what they want, when they want it.
NewspaperDirect will also demonstrate its latest iPhone Offline Reader Application at the Conference. The new application, scheduled for release later this month, will allow iPhone users to download, disconnect and read offline, all of the hundreds of full-content publications they currently enjoy on the iPhone and iPod Touch in the online mode. The iPhone Reader Application will offer the popular digital features available today on NewspaperDirect's PressReader for PCs, Macs, Windows Mobile and smartphones, including the ability to pre-program automatic downloads of publications the minute they are published.
PolymerVision's Readius e-Reader (scheduled to be released later this year) is the world's first foldable electronic paper device which fits into one's pocket. A special PressDisplay PressReader application will be previewed at the Conference to show how newspaper, magazine and book publishers can take advantage of this soon-to-be released revolutionary e-reader platform.
"The demand for new device support, new applications and new distribution channels from newspaper, magazine and book publishers is unprecedented," said Alex Kroogman, CEO of NewspaperDirect. "With PressDisplay, we are committed to delivering all of our publishers' content on the newest devices the moment they hit the market, to ensure that our publishing partners are well positioned to take advantage of new circulation and revenue-generating opportunities."
In keeping with NewspaperDirect's "zero cost" business model for its publishing partners, the PressReader application for e-readers and new iPhone Reader will be available at no additional cost to publishers. NewspaperDirect continues to provide full hosting, payment acceptance, customer service management and technical support, while ensuring publishers' e-editions remain current and adapted to the newest platforms introduced on the market.
About NewspaperDirect Inc.
Founded in 1999, NewspaperDirect Inc. is the world leader in multi-channel newspaper and magazine content distribution and monetization. NewspaperDirect offers more than 850 newspaper and magazine titles through a global network of 1,200 print locations in 105 countries, delivering them to hotels, libraries, cruise ships, corporate offices, retail outlets, home subscribers, and Web browsers everywhere.
The company's PressDisplay.com offering is the world's largest online newspaper kiosk, providing instant access to hundreds of newspapers and magazines from around the world. Users can view publications online, download titles for offline viewing, vote and comment on articles, instantly translate articles into 12 different languages, listen to publications on their PCs, Macs or mobile devices, and enjoy reading hundreds of publications that have been optimized for e-Readers, smartphones, iPhones, iPod Touch and BlackBerry devices. Special versions of PressDisplay.com are available for the library, corporate, airline, hotel and OEM markets.
NewspaperDirect's SmartEdition e-paper solution, powered by PressDisplay technology, fits every publisher's needs with zero operational cost. With SmartEdition, a publisher's subscribers benefit from anywhere/anytime access to current and back issues of their publications, while enjoying premium digital features such as voice narration, instant translation, article sharing, integration with leading blog platforms, and advanced searching. NewspaperDirect provides full hosting, payment acceptance, customer service management and technical support.
PressDisplay.com and SmartEdition are trademarks or registered trademarks of NewspaperDirect Inc. All other trademarks and registered trademarks belong to their respective owners.
###