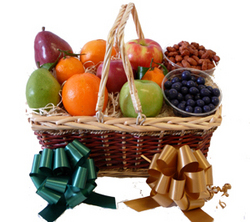 The proceeds of this business venture are going toward our daughter Annie's college fund, and she has taken all of the photography of our edible fruit baskets for the site, making this truly a family venture
Sonoma County, California (PRWEB) February 10, 2009
Ralph and Debra Paige have been selling fruit and vegetables and creating their deluxe fruit baskets in Sonoma County, California through Sonoma County Growers Exchange for more than 20 years and have recently increased their customer base by offering their fruit basket delivery online with Annie's Fruit Basket.
"The proceeds of this business venture are going toward our daughter Annie's college fund, and she has taken all of the photography of our edible fruit baskets for the site, making this truly a family venture," states Ralph and Debra Paige.
Annie's Fruit Basket is located in Sonoma County in the heart of wine country, which boasts premium produce yields, lending itself well to the offering of the healthy gift baskets filled with fruit and nuts as opposed to their more decadent counterparts.
"We have been in the produce business for some time and we know our fruit and vegetables. We have been creating our deluxe fruit baskets for roughly the same amount of time to all of our local customers. My daughter Annie suggested that we sell them online, and here we are," relates the Paige family. "Our goals are to continue to improve the variety and uniqueness of our fruit baskets and provide the best service in the industry."
Visitors to the site can customize fruit baskets to send with a composed message from the sender to the recipient. This can help personalize business and corporate gift baskets to specifically express gratitude for a job well done or extend a fruit of the month gift for a business partner.
The fruit of the month club membership is available in three month increments up to a full year of monthly fruit delivery. Members can choose among several seasonal fruits for each month of their subscription.
The newest arrivals are the Valentines Day gift baskets, available in a variety of fruit, candy, nut, and cider combinations to accommodate a range of budgets. The fruit of the month club is also a suggested gift to celebrate Valentines Day, a birthday, Mother's Day, or other special events. Gift cards are also available for purchase.
For more information on product offerings and prices, visit Annie's Fruit Basket.
About Annie's Fruit Basket:
Annie's Fruit Basket is a subsidiary of the wholesale produce company Sonoma County Growers Exchange (SCGE). SCGE is a family-owned and operated produce company founded in 1992 by Ralph "Al" Paige Jr., and represents and distributes Sonoma County, California's in-season produce.
The company is named after Annie, the daughter of Al and Debra Paige who have been growing and selling high quality in fruit and vegetables for over 40 years in Sonoma County and the growing regions of northern California.
# # #