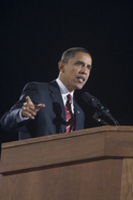 Obama's election would help heal America's racial history and divisions
Tallahassee, FL (PRWEB) February 10, 2009
There is no denying that the election of Barack Obama as the 44th President of the United States was monumental. That a black man has been elected to the highest office in a country rife with racial divisions has left many unanswered questions about how this became possible. Much research has pointed to the role of the 'black voters' and the 'youth voters', who turned out in record numbers to cast their ballots. However, new research by Verj Magazine Contributor and Associate Professor of Political Science at Florida State University, Dr. Ray Block, suggests that white American 'history voters', motivated by a desire to heal racial wounds, voted for Obama because they wanted to play a part in making an historic change to the nature of race relations in the country. The research suggests that Obama's election is an important marker not just in Black History, but in American History.
Verj Magazine - Politics
In a recent article titled 'History Voters' and their role in the 2008 Presidential Elections published in the February issue of Verj Magazine, Professor Block, argues that 'history voters' - white Americans who saw Barack Obama's candidacy as an opportunity to redress 'the collective memory of race in America, a memory flecked with moments of violence and mistrust' - played an important role in the 2008 election.
Professor Block's research is based on a September 2008 Time Magazine poll, in which respondents were asked to rate how well a series of statements described Barack Obama and his campaign for the Presidency. In response to the statement, "Obama's election would help heal America's racial history and divisions," Professor Block found that white Americans who strongly agreed with the statement were more likely to vote for Obama.
This finding suggests Americans fully understood that with Obama's campaign for the presidency, they were, quite literally, standing at the doors of history and this realization influenced them to vote for Obama. "The historical implications of having a Black president inspired citizens to vote for Obama", says Professor Block. "The idea that citizens (particularly white Americans) casted 'history votes' suggests that the nation took part in a large-scale effort to improve its racial legacy."
Does Barack Obama's election mean that the US is now color-blind? That we've come to the end of racism and discrimination? "No it doesn't", says Tashweka Anderson, Founder and Editor-in-Chief of Verj Magazine "But it does suggest that collectively, as a country, there is a desire amongst Americans to begin to heal the wounds of racial discrimination that have divided us for so long".
Professor Block's research suggests that Barack Obama's election to the US Presidency is an historic achievement for all Americans. It is an important marker not just in Black History, but in American History.
To read Professor Block's article, visit the Verj Magazine website at http://www.verjmagazine.com
About Verj Magazine
Verj Magazine is a new online magazine for (roughly) 25-35 year-old cosmopolitan women, regardless of where in the world they live. The vision of the magazine is to offer intelligent, personal, thoughtful, inspirational articles that address every aspect of a woman's life - the personal, social, professional, mind, body and soul. Verj Magazine welcomes and encourages submissions from new contributors wishing to write on a variety of topics. For more information, visit http://www.verjmagazine.com/verjcontributor
About Professor Ray Block
Dr. Ray Block is an Assistant Professor in the Department of Political Science at Florida State University. With an undergraduate degree in Philosophy and a Ph.D. in Political Science, Dr. Block approaches our most recent election with an eye toward the psychological workings of the American public. His ongoing research at the university focuses on the behavioral involvement in politics, specifically in relation to racial differences in expressions of political interest. Dr. Block's research and teaching interests include U.S. government with concentrations in minority group politics, political involvement, public opinion, political psychology, and survey research.
###