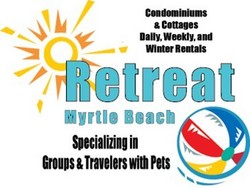 means more than just accepting a pet!
North Myrtle Beach, SC (PRWEB) February 10, 2009
Retreat Myrtle Beach, the leader in pet-friendly vacations for the Myrtle Beach, South Carolina area, has announced that it is celebrating their 20th anniversary in 2009. Retreat Myrtle Beach professionally manages over sixty privately owned vacation homes and condos between Cherry Grove and Crescent Beach, SC ranging from one to eight bedrooms, which are all pet friendly vacation rentals - a rarity in the Myrtle Beach area.
Since starting out in 1989 with a handful of properties, Retreat Myrtle Beach has quickly and selectively grown to over 60 pet-friendly properties by becoming the experts on providing the information and customer service that pet owners deserve and demand when traveling with pets. Led by Betsy Hinson, the team has become advocates for pet owners and their quest to find the perfect place to vacation with their beloved pet whether dog or cat. The team frequently helps guests choose the right property for humans and pets, helps with information on groomers, veterinarians, doggie day care, pet supplies, dining out options and understanding all local laws that pertain to pets as well as information for the family like going to the best shows, amusements and attractions that the Grand Strand has to offer.
"The team at Retreat Myrtle is very excited to be celebrating our 20th Anniversary in 2009. Since our inception we have welcomed almost every breed of dog and quite a few traveling felines. As animal lovers and owners of the company we wanted to provide a warm friendly atmosphere at the beach that people could share their much-deserved vacation with their "best friend". All of our properties have been carefully chosen to meet the needs of a "pet-friendly" property. Here at Retreat Myrtle Beach, we believe that "pet-friendly" means more than just accepting a pet!" states, Betsy Hinson of Retreat Myrtle Beach.
Betsy continues, "Over the years we found out what it really means to be "pet friendly" and that's why our units feature hardwood and tile floors, leather furnishings and fenced lawns or pet walking areas. All of these help promote a more comfortable stay for the traveling pet and his owner. We have found that when a pet arrives at a new destination that many have the same problems adjusting to their "new" temporary home as their human companions. That is why we provide a list of pet tips that include bringing familiar dishes, blankets, and toys."
Over the last decade, the team at Retreat Myrtle Beach has made an impression on many Myrtle Beach area vacationers and has formed long-lasting relationships with vacationers returning year after year. A recent vacationer had this to say in a note to the team, "…We wanted to send a most sincere note of thanks for a wonderful family vacation at Myrtle Beach…the condo was Perfect! So pretty and very, very clean. It was most special to share our trip with our baby, Bella. She enjoyed beach life! We will cherish the memories made forever…"
About Retreat Myrtle Beach
Retreat Myrtle Beach is a full-service professional vacation rental firm located in North Myrtle Beach, South Carolina managing over 60 select individually owned properties. Founded in 1989, Retreat Myrtle Beach specializes in the providing vacation rentals to families, travelers with pets and church and student organization groups. They draw vacationers throughout the United States and are favorites of vacationers from such places as Charlotte & Raleigh, NC; Pittsburgh, PA; Syracuse, NY and Canton, OH. International airports in Myrtle Beach, SC and Wilmington, NC service North Myrtle Beach, SC. Retreat Myrtle Beach, Inc. can be contacted at 800-645-3618. They can be found on the Internet at RetreatMyrtleBeach.com
# # #