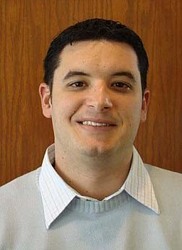 Dennis is a very energetic and disciplined individual and always exhibits these qualities when working with customers. He has exceptional customer service experience and is focused on his customers' complete satisfaction
Elgin, IL (PRWEB) February 11, 2009
Wisdom Adhesives, the top mid-sized adhesives manufacturer in North America, names Dennis Biazis as their sales manager for the Midwest and Southeast regions of the country. Wisdom Adhesives is a supplier of environmentally safe and compliant waterbased and hot melt adhesives to industrial users throughout the world.
Dennis Biazis arrives at Wisdom after establishing an excellent track record in sales and customer service with Merial Pharmaceuticals, Duluth, GA. While working for Merial Pharmaceuticals Dennis acquired extensive training in value selling, sales territory managment, marketing and customer relations.
"Having Dennis Biazis join our organization after working for a top company like Merial Pharmaceuticals will be a positive asset to our Wisdom customers, and will give a fresh marketing approach to our sales efforts", states Jeff Wisdom, fifth-generation owner of Wisdom Adhesives.
Also enthused with Wisdom's newest member is Vic Biazis, President and Regional CEO for the Global Adhesives group of Wisdom Adhesives, who adds that "Dennis is a very energetic and disciplined individual and always exhibits these qualities when working with customers. He has exceptional customer service experience and is focused on his customers' complete satisfaction".
Dennis received a B.B.A degree in marketing from Georgia State University in Atlanta, GA.
Founded in 1875, Wisdom Adhesives is a fifth-generation owned and managed company and well-known innovator and manufacturer of adhesives for a wide variety of industries, including: graphic arts, printing, packaging, bookbinding, publishing, paper, assembly and display. Wisdom Adhesives has a long-standing commitment of responding to customer needs faster - with a 24-hour turnaround - than any company in its industry, providing high-quality products and personalized service second to none.
To obtain more information, call 847.841.7002 or visit http://www.wisdomadhesives.com. Wisdom Adhesives' corporate headquarters and manufacturing facility is located at 1575 Executive Drive, Elgin, IL 60123.
# # #