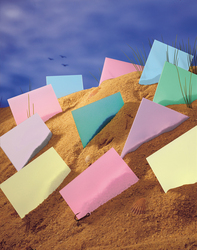 Boston, MA (PRWEB) February 11, 2009
Acrilex, Inc. producers and distributors of high-end custom-colored acrylics, announces its Acriglas® Pastel Frost line of Acrylic Sheets. This series of Acrylic Sheets is ideal for use in point of purchase displays, store fixtures, furniture, lighting, and in architectural applications where Tempered Glass would not be a practical material choice.
Frosted Acrylic Series Features Pastel Hues
Along with the original eleven colors from the Acriglas® Frosted Acrylic series, the Pastel Frost series adds an additional twelve new colors, thus allowing for a choice of twenty three shades of soft, translucent pastel hues. The Frosted Acrylic Series may be easily customized to any specified color and is available with varying degrees of translucency. Unlike Tempered Glass, the soft, luxurious matte texture is also available on one or both sides of the Acrylic Sheets.
Acrylic Sheets Ideal Choice For Custom Applications
Acriglas Pastel Frost sheets are available in a variety of sizes, and in thicknesses ranging from 1/8" to 3/8". All Acrylic Sheets can be custom cut or configured to meet all specifications.
About Acrilex, Inc.
Acrilex (http://www.acrilex.com/) is a leading producer and distributor of custom-colored acrylics, custom-configured acrylic fixtures and other products that make people say WOW! In business to provide solutions to clients, Acrilex can design it, create it and get it to you faster than anyone else in the industry. Headquartered in Jersey City, NJ, Acrilex offers a complete line of acrylic products and capabilities. To learn more about Acrilex, call Dan Rustin, a.k.a. Dr. Dan, at 1-800-222-4680, or via email at drustin at acrilex dot com. Additional information can be found on the Acrilex company website, http://www.acrilex.com.
###