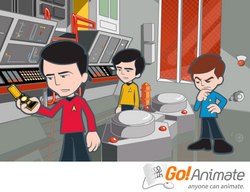 STAR TREK fans are amongst the most dedicated fans and often look for new ways to express their enthusiasm
New York, NY (PRWEB) February 12, 2009
GoAnimate.com, the online platform that enables users to create their own customizable animations, today announced a licensing deal with CBS Consumer Products to give users the ability to create their own STAR TREK animated adventures. This is the first ever officially-sanctioned use of STAR TREK material for the purpose of user-generated content within an online medium.
"STAR TREK fans are amongst the most dedicated fans and often look for new ways to express their enthusiasm," said Liz Kalodner, Executive Vice President and General Manager, CBS Consumer Products. "The launch of GoAnimate's new media platform creates an innovative outlet to bring the STAR TREK universe from imagination to life."
GoAnimate.com will introduce the world to a new art style for the STAR TREK characters created by CBS Consumer Products. Dubbed QUOGS, the new art style is a major brand initiative for STAR TREK that will give the characters a more accessible look and feel for today's generation. Not based on any particular image of those who have played the characters in the past, QUOGS is a highly-stylized and fun look at these iconic archetypes.
If You've Got a Story, You Can Animate It
Historically, the creation of animation required specific skills, limiting those who can express their creativity. GoAnimate.com's online application allows you to create animations without any drawing talent or the need for a technical understanding of advanced software programs such as Flash. As a result, STAR TREK fans both young and old - with no need for drawing or technical ability - can easily create their own customized STAR TREK animations with just a few clicks.
To see how easy it is to GoAnimate your own STAR TREK story, check out these quick video tutorials and get started: http://press.goanimate.com.
Users will be able to activate animated versions of Kirk, Spock, McCoy, Scotty and many other original STAR TREK characters with a full range of actions and expressions, in addition to dialogue and musical themes. Once a STAR TREK animation is created, users can share it with their friends, social networks, and the greater STAR TREK community as a whole. GoAnimate's platform makes it simple to save and share your creations right from the site, including integration of both Gmail and Yahoo! Mail contacts, Facebook, MySpace, Twitter, Digg, Del.icio.us, StumbleUpon and Reddit.
For downloadable images of the characters and backgrounds that can be animated, please visit: http://press.goanimate.com.
"As avid fans of both STAR TREK and animation, this has been an incredibly exciting project for us," said Alvin Hung, Founder and CEO, GoAnimate. "The global STAR TREK community has a long history of expressing their passion for STAR TREK through creative channels. This partnership with CBS Consumer Products gives all STAR TREK fans a simple - and legal - way to interact with the content and express themselves in an all new way. Regardless of the content, we are happy to enable people worldwide with a new creative vehicle in which they can feature their passions."
Only Got Five Minutes? Yeah, You Can Still GoAnimate
In addition to GoAnimate's full animation platform that enables the creation of full-fledged animated episodes, GoAnimate also gives you the option to create quick animated "eMessages". eMessages are pre-defined templates that already include different characters and scenes, enabling you to simply add dialogue and then send a quick animated note to your friends. With the launch of the new Star Trek content, GoAnimate will also launch five new STAR TREK eMessage templates, with more to come over the months leading up to the new film.
To see how easy it is to send your friends a quick animated Star Trek eMessage today, visit http://goanimate.com/go/emessage.
About CBS Consumer Products
CBS Consumer Products, a unit of CBS Entertainment, manages worldwide licensing and merchandising for a diverse slate of television brands and series from CBS, CBS Paramount Network Television and CBS Television Distribution, as well as from the company's extensive library of titles. Additionally, the group oversees the CBS Retail Store and online sales of programming merchandise. For more information, visit http://www.CBS.com.
About GoAnimate, Inc.
GoAnimate, Inc. is an entertainment website that enables everyone to simply and easily create their own animations. GoAnimate was created by a bunch of guys who love animation, and who wanted to enable everyone to share in the joy of animation without any need for previous training. We believe the world is made up of great stories, and we want to empower you to creatively tell yours and then share them with your world. To get started, please visit http://goanimate.com/.
Headquartered in New York, GoAnimate has offices in the Bay Area and Hong Kong. For more information or to partner with GoAnimate, please contact Stone Newman, Senior VP of Licensing and Business Development, at stone@goanimate.com.