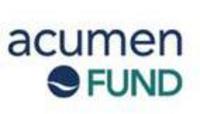 The addition of these new products, combined with our PermaNet® brand bed nets, will ensure a brighter future for countless families.
New York, NY (PRWEB) February 10, 2009
Acumen Fund, Richard Allan, and Vestergaard Frandsen today announced the creation of a joint venture company, Durable Activated Residual Textiles S.A. (DART), to develop new and innovative products to combat malaria. This partnership between nonprofit social venture fund Acumen Fund, private disease control textiles company Vestergaard Frandsen, and malaria expert Richard Allan seeks to make widely available a Durable Residual Wall Lining (DL), or "vector control wallpaper," to complement and perhaps one day replace Indoor Residual Spraying (IRS) as a tool for preventing the transmission of malaria. IRS generally works on smooth, non-porous surfaces, and it requires careful planning, preparation, special equipment, and repeat intervention every four to six months. DART's vector control wallpaper is designed to eliminate these obstacles which often prevent many households from being effectively protected against the transmission of malaria.
"The least fortunate suffer disproportionately from malaria as this disease mostly affects those living in poor rural areas of Africa, Asia and South America where access to effective means of prevention and health care is extremely limited," said DART co-founder Richard Allan, who also heads up The MENTOR Initiative, an NGO devoted to reducing death and suffering from malaria in emergency settings. "DART views this disproportionate burden as unacceptable, and we've set out to design products and distribution systems that will reduce it by empowering as consumers the least fortunate, offering them access to affordable and effective malaria prevention tools they can choose for themselves."
"DART represents the latest example of business and philanthropy working together on creative solutions to the world's most intractable problems. While great progress has been made over the past few years in providing long lasting, insecticide-treated bed nets to at risk families, our experience has shown that achieving household uptake, retention, effective use and high coverage rates is still a major challenge," said Jacqueline Novogratz, CEO of Acumen Fund. "DART seeks to address this challenge by building a global business model to make available and affordable to all a highly desirable product that is effective at preventing malaria and effortless to use once installed."
"We are very excited to partner with our colleagues in the creation of DART SA. This joint venture holds the promise of creating and marketing innovative products that will prevent the transmission of diseases, reduce suffering and save countless lives in the developing world," said Mr. Per Reimer, Chairman of DART, and Chief Operating Officer and Executive Vice President of Vestergaard Frandsen Group SA. "The addition of these new products, combined with our PermaNet® brand bed nets, will ensure a brighter future for countless families."
Malaria is endemic across much of the world and puts at risk over 40% of the world's population. Transmission and geographic spread of malaria has been steadily increasing since the end of the 1980s and kills one to two million people every year. Approximately 80% of these deaths occur in young children and pregnant women. DART is the latest investment by Acumen Fund in its growing portfolio of companies that offer a range of innovative products and services to reach the underserved, including two other malaria investments, A to Z Textiles in Tanzania and Botanical Extracts in Kenya. To learn more to learn more about investments made by Acumen Fund and to follow the progress of its investment in DART, visit http://www.acumenfund.org.
About Acumen Fund
Acumen Fund is a nonprofit venture fund that invests in market-oriented approaches to deliver critical, affordable goods and services to the world's poor. Acumen Fund focuses on the convergence of philanthropic capital and business expertise to produce sustainable, scalable enterprises that reach underserved markets and increase access to the opportunities of the global economy. For more information on Acumen Fund's activities and investments, visit http://www.acumenfund.org.
About Vestergaard Frandsen
Vestergaard Frandsen is an international company specializing in complex emergency response and disease control products. The company operates under a unique Humanitarian Entrepreneurship business model. This "profit for a purpose" approach has turned humanitarian responsibility into its core business. Vestergaard Frandsen was founded in 1957 and has since evolved into a multinational leader focused on helping to achieve the United Nation's Millennium Development Goals. For more information about the company and its products please visit http://www.vestergaard-frandsen.com.
About Richard Allan
Richard Allan has worked in malaria research and control for over 20 years. He began his career in medical aid in 1985 in Congo before moving to Oxford University, where he was involved for several years in novel research on malaria immunology and the development of new therapies. In 1994 he started working with non governmental agencies involved in emergency, humanitarian medical aid across Africa and Asia. Richard became the WHO Roll Back Malaria Co-ordinator for Emergency Countries in 2000, leading technical support for NGOs and championing the development of malaria prevention tools for emergency settings. He is now the director of The Mentor Initiative, an NGO devoted to reducing death and suffering from malaria in emergency settings, which he founded in late 2002.
# # #