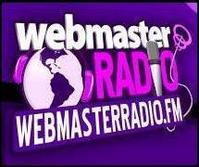 Fort Lauderdale, Fl (PRWEB) February 10, 2009
WebmasterRadio.FM, the premier free, 24/7 Internet business radio network focused on the B2B marketplace and the official radio network of the Search Marketing Expo conference series, announces exclusive coverage from the floor of the Search Marketing Expo West (SMX) 2009 Conference starting today and running through February 12th.
WebmasterRadio.FM will be reporting from the show floor with "roving reporter" interviews with panelists and attendees, including a special live broadcast of "PPC Rockstars" featuring a PPC Webmaster Roundtable as part of "WebmasterRadio.FM's SearchBash at SMX West 2009" after-hour party from the Hyatt Santa Clara.
"WebmasterRadio.FM's live coverage keeps tabs on the pulse of the event for both conference goers and those who can't make it to Santa Clara," said Brandy Shapiro-Babin, WebmasterRadio.FM Vice President of Marketing. "Our roving reporters will be scouring the event floor for up-to-the-minute interviews and spot coverage. If there's a scoop, you'll hear it!"
WebmasterRadio.FM is the official radio network of the Search Marketing Expo conference series, the largest and most important conference dedicated to the search engine and search engine marketing industries. The Search Marketing Expo West (SMX) 2009 Conference event runs February 10th thru the 12th at the Santa Clara, California Convention Center.
SMX West coverage and all WebmasterRadio.FM programs are available in podcast format through all major podcast portals, and in mobilecast and archived format on-demand at http://www.WebmasterRadio.FM.
About WebmasterRadio.FM :
WebmasterRadio.FM lifts the "veiled curtain" of the Internet, bringing the business community together through an interactive radio network. Its listeners are a global group, comprised of everyone from corporate executives and decision makers to small and mid-sized businesses and individual entrepreneurs. WebmasterRadio.FM's stellar line-up of radio programming includes "CoverStory" with Jiyan Wei of PRWeb, WebmasterRadio.FM's official newswire; "The Hook with Katie Kempner" with Katie Kempner, vice president of Crispin Porter + Bogusky; "SEM Synergy" with Search Engine Marketing Industry Leader Bruce Clay and more. To tune into WebmasterRadio.FM's live content or check out the show lineup, please visit http://www.WebmasterRadio.FM.
Media Contact:
Brandy Shapiro-Babin
954-736-4171
###