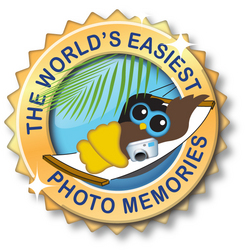 Interest in eyeRemember.com is spreading fast with travelers and vacation partners
Bellingham, WA (PRWEB) February 18, 2009
A pair of Seattle area entrepreneurs have launched eyeRemember.com, which boasts The World's Easiest Photo Memories. It offers an easy 3 part process for converting digital photos from vacations and special occasions into a treasured Five Star Photo Book.
Co-founders Dwayne Neufeld (chief executive officer) and Dennis Zetting (president) conceived eyeRemember.com after learning that the vast majority of people that try to make a photo book abandon the project before it is completed.
"Photo memory books are one of the most exciting ways to preserve your memories, but surveys have shown that over 90 percent of photo memory book projects are never completed," Zetting said. "Some people lose interest as they get into the project. Some people become overwhelmed with the software and they just can't complete it. Some people start to doubt their own creative abilities. And others just run out of time."
The Five Star Photo Book process, developed by eyeRemember.com, lets anyone make a beautiful coffee table book. Customers can go to the website (http://www.eyeRemember.com), complete a simple 9 point survey and order their book in 5 minutes. eyeRemember designers will crop photos, add text and have the book ready to review online in five days. Changes are made in real time by editors as the customer watches. For people not comfortable with using the Internet to upload photos, a mail-in option is also available.
"With digital cameras people are taking many more photos on the average vacation," Zetting said. "eyeRemember lets customers easily display those photos by doing all the time consuming work. Our designers will crop or retouch photos, and they'll even add professional photos and maps when needed. Using the customer's survey answers and their research of your vacation spots, designers will add interesting text - we've even used a person's blog in their book. Our Five Star Photo Book process allows everybody to have a beautiful coffee table style book of their favorite memories."
"Interest in eyeRemember.com is spreading fast with travelers and vacation partners," Neufeld said. "A special family vacation may be a once-a-lifetime event and can easily cost several thousand dollars, so the idea of a preserving those memories in a professionally prepared book is powerful. The ability to have that project completed with just a few minutes of effort is nothing short of revolutionary!"
For more information, visit http://www.eyeRemember.com.
###