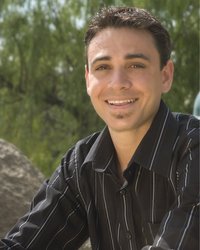 showing the world that God is who He says He is
Charlotte, NC (Vocus) February 10, 2009
Spend a few minutes with Ben Cerullo and you will be able to quickly tell that he's on fire for the Lord. His conversations are filled with passion for the gospel and laced with phrases like "taking the kingdom back for God," "showing the world that God is who He says He is," and "demonstrating the power of God through miracles and healing." And Cerullo isn't just all talk. Since stepping from behind the scenes at the award-winning youth/young adult ministry Steelroots in 2007 and launching Ben Cerullo Ministries, Cerullo has proven to national and international audiences that he's all about action.
In 2009, Cerullo will take his popular ministry crusades to the forgotten and sometimes dangerous places of the world to preach the gospel. Among the stops on his 2009 "Miracles and Healing" crusade schedule are Freetown, Sierra Leone (March 5th - 8th), Sri Lanka, and Dubai, United Arab Emirates. He also plans to visit churches in Montreal, Canada and the United Kingdom with the goal of strengthening and equipping local ministries and believers for evangelism.
"There are nations across the world hungering for the gospel," says Cerullo. "There are people and places in far-off lands in a constant state of despair. They need prayer and a tangible word from God. He laid a burden on me to reach these people. This is our goal for 2009 - to bring the gospel to the forgotten places of the world."
Cerullo's 2009 crusades are the latest in a series undertaken since the launch of Ben Cerullo Ministries in 2007. In 2008 alone, 45 crusades were held in eight countries, ministering to more than 67,000 people. In addition, Cerullo also recently launched Thunder Road, a new reality television series that takes viewers behind the scenes and on the front lines of ministry in some of the most dangerous and poverty-stricken areas of the world.
Cerullo's visit to Freetown, Sierra Leone in March comes by request. Two of the country's leading ministry figures, Bishop Augustine Kamara, National Director of the Church of Pentecost and Bishop Julius Laggah, pastor of Bethel Cathedral of Praise, head a prominent group of local Christian pastors who extended the invitation.
"After receiving the invitation from Bishops Kamara and Laggah, I have felt a growing burden for Freetown's people. Years of civil war have resulted in devastating poverty, unemployment, and suffering. I believe that God wants to bring hope and a new wave of freedom to people in this region."
Cerullo recalled that Freetown is known for noisy, colourful street markets and rousing nightlife. But it also is steeped in spiritual history. "Today, Sierra Leone and other nations like it seem to be forgotten by most people in the world. But God has not forgotten them. That's the message we will bring to Sierra Leone and other nations throughout the year."
For more information about the 2009 crusade schedule for Ben Cerullo Ministries visit http://www.bencerullo.com. Interview requests can be directed to Kristina Hill at khill@insp.com.
About Ben Cerullo Ministries
Named by Charisma Magazine as one of the "30 Emerging Voices" that will lead the church in the next decade, Cerullo stepped from in front of the cameras at the youth/young adult ministry Steelroots in 2007 to launch Ben Cerullo Ministries. The ministry continues Cerullo's passion and commitment to bring the Gospel to not only young people, but people of all ages and backgrounds throughout the nations of the world. Cerullo has ministered to thousands of people around the world with Christian leaders during campaigns in Bogotá, Colombia; Maracaibo, Venezuela; Gabon, Africa; the Democratic Republic of Congo; Taipei, Taiwan; and Tabasco, Mexico. For information about these and other ministry activities from Ben Cerullo Ministries visit http://www.bencerullo.com.
###