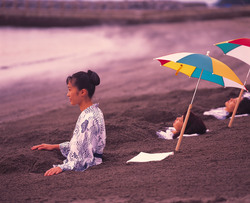 New York, NY (PRWEB) February 12, 2009
Remote Lands, the world's leading travel designer of bespoke journeys to Asia, is introducing tailor-made wellness trips to Japan. The company, which recently added the country to its list of destinations, is offering insider experiences incorporating Japan's culture of holistic well-being practices. In keeping with Remote Lands' commitment to travel off the beaten path, it has chosen Shikoku and Kyushu, the smallest and least visited of Japan's four major islands, to debut its Bespoke Wellness Journeys. Shiatsu massages, pilgrimages to secluded temples, meditation retreats with Buddhist monks, and soothing soaks in onsens, bathhouses adjacent to natural hot springs, are sure to intrigue and delight visitors seeking rejuvenation in Japan. Remote Lands' Bespoke Wellness Journeys to Japan begin at $3750 per person for five days, based on double occupancy, and may be tailored based on additional services.
Itinerary highlights of a five-day Bespoke Wellness Journey include:
Day 1: An hour's flight from Tokyo is Shikoku, where clients stay at the secluded, luxurious 17-room Utoco Deep Sea Therapy Center & Hotel, developed by skincare icon Shu Uemura. Designed to harness the healing agents of the area's surrounding mineral-rich waters, the hotel offers visitors restorative, thalassotherapy (water-based) treatments. Guests are massaged in marine mud or detoxifying seaweed and can bathe in the healing water, inhale sea fog, or simply drink the elements in the water, said to improve skin tone and digestion.
Day 2: Visitors begin the day with an exclusive consultation with a tea expert offering insight into the therapeutic and detoxifying properties of pure teas. The expert can create a custom blend of tea designed to enhance the body's innate curative powers. Then, guests dress in a traditional white coat, scarf and conical straw hat and embark on a section of the most important Buddhist journey in Japan, the 88 Temple Pilgrimage. Rewarding participants with a rare glimpse into the last vestiges of a mysterious, rural Japan, this hike through breathtaking scenery can be a profound spiritual experience. Afterwards, visitors can relax at one of the oldest hot springs in Japan, the Dogo Onsen, frequented by famous Japanese artists and nobility since the sixth century. This visit, and perhaps any visit to an onsen, is the best opportunity to interact directly with locals.
Day 3: Guests can then switch gears and stay at a monastery on Mount Koya, which is the first stop on the 88 Temple Pilgrimage. Visitors can spend the day with the monks who live there and observe or participate with them during their morning prayers. Participants can learn two styles of meditation, zazen and kinhin, the seated and walking forms. Visitors can enjoy the monks' delicious vegetarian, or shojin ryori, cuisine and take leisurely, meditative strolls around the grounds.
Day 4: Guests can then travel south to Kyushu and stay at the luxe Murata Ryokan, located near Mount Yufudake. Murata is a traditional Japanese inn that incorporates Western and Eastern design elements. From the base of Mount Yufudake, visitors can begin an invigorating hike or bike ride. The excursion offers panoramic views of the world's largest caldera, or volcanic crater, as well as majestic landscapes over Kunisaki, Beppu, Yufuin and beyond. Guests can end their days with a soothing shiatsu massage and an antioxidant facial using a paste combining green tea, ground pearls, sake and pure spring water.
Day 5: Visitors can then travel to the seaside town of Beppu, well-known for its many onsens. A variety of unusual baths are available here, including floating in a mud bath, plunging in a thermal whirlpool, and being buried in a sand bath where one is encased in a relaxing cocoon of dense, hot black sand. Guests can then indulge in a Japanese facial incorporating nightingale droppings, which have been sterilized with UV light and refined into a powder form. The active ingredient in the bird droppings is said to impart a pearly luster to the skin. This beauty treatment traces its origins back to the Geisha who wore heavy damaging makeup and were concerned with the appearance and quality of their skin.
Remote Lands can arrange additional Bespoke Wellness Journeys in other Asian countries and territories. For inquiries, please call (646) 415-8092 or visit http://www.remotelands.com.
About Remote Lands
Remote Lands, Inc., the world's foremost luxury bespoke travel provider focused exclusively on Asia, is based in midtown Manhattan with a logistics office in Bangkok. The company specializes in extraordinary experiences in magical, far-flung destinations and insider access to exceptional people and exclusive events. The venture capital-backed company was founded by seasoned business and travel entrepreneurs Catherine Evans Heald and Jay Tindall, both of whom have lived, worked and traveled all over the world. Remote Lands actively promotes socially responsible tourism that strives to bring an understanding of other cultures and helps to preserve their way of life. Ten percent of the company's profits go directly to local charities in developing countries. For more information, please visit http://www.remotelands.com
###