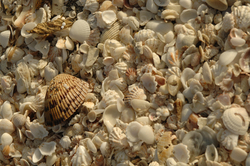 Sanibel Island, FL (PRWEB) February 12, 2009
Since 1937, the Sanibel Community Association has held the largest and longest running Shell Fair and Show in the United States. The Shell Fair takes place March 5 - 7, 2009 at 2173 Periwinkle Way on Sanibel Island.
There is something for everyone at the fair. A family favorite is the display of shells by 5th graders from Sanibel Elementary School. Elementary school students prepare long in advance to help educate fascinated adults and children about the activity of the sea life in the aquariums at the Live Shell Exhibit. This is the only time shells are used in any of our activities and they are returned to the Gulf after this event.
The Sanibel Shellcrafters have two big tents that hold the many varieties of arrangements, wall hangings and jewelry, all created from shells. Many species of Sanibel shells are also on display. Come out for the day and enjoy the local cuisine and entertainment provided by the Sanibel Community Association.
ResortQuest vacation rentals offers hundreds of properties near the Sanibel Island Shell Fair and Show. Other ResortQuest locations include: Captiva Island, Naples and Fort Myers. Each vacation rental is fully furnished and vacation ready. For more information log onto http://www.ResortQuestSWFL.com or call 800-820-1088.
Visitors to Sanibel Island receive special lodging rates through ResortQuest. ResortQuest's "More for your Money" March promotion provides one free night for every two paid nights. For example, guests receive a free night on a three-night stay, two free nights on a six-night stay, or three free nights on a nine-night stay. Guests must mention booking code INT MYM and book no later than March 1, 2009. The promotion is valid for any stay between March 1 and March 31, 2009.
About ResortQuest
ResortQuest, one of the nation's leading vacation rentals and resort real estate companies, provides a one-stop resource in North America's premier resort destinations. ResortQuest is the largest marketer and management company of vacation condominiums and home rentals in North America, based on a portfolio of nearly 16,000 vacation rental properties, comprised of 50,000 rooms, producing 400 million dollars in annual revenue. ResortQuest Real Estate is a leading real estate company focusing exclusively on resort properties, offering superior brokerage services in the country's premier beach, ski and golf destinations with annual sales in excess of one billion dollars.
###